A No Bake Cookie That Salutes Fall
I've spent some time trying not to bake, but I still love cookies. The best cookies, of course, are made with love.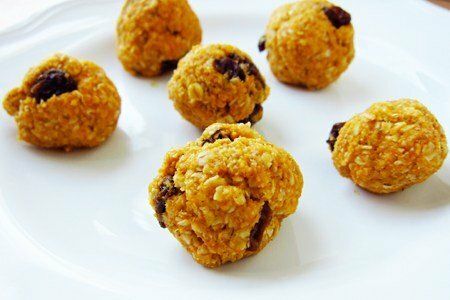 Other than love, you can add things like butter, sugar, and chocolate to make them taste great or you can go with a challenge.
How about pumpkin, oats, and raisins? These might not be met with the same enthusiasm as a fresh baked chocolate chip cookie, but they can satisfy that "I NEED a cookie" impulse that goes with your afternoon coffee.
I will be honest with you, my children were a bit unhappy with these. I made the mistake of telling them that I was making cookies and they took one look and said, "Those aren't cookies!".
Ah well.
In retrospect, I should have added some mini chocolate chips for them instead of the raisins to convince them that these were a treat. You can try that and see if your kids like them more than mine did.
I find these to be like a combination of pumpkin pie and an oatmeal raisin cookie. They are fun to make and require one bowl, no oven, and very little clean up time.
This recipe uses quick oats. If you only have rolled oats, pulse them a few times in a food processor to make the size of the oat much smaller. Quick oats are just chopped up rolled oats. These cookies can be gluten-free if you use gluten-free certified oats.
I used canned pumpkin which you can find in the baking section.
Does anyone have ideas for what you could do with the rest of the can? What do you do with two-thirds of a can of pumpkin?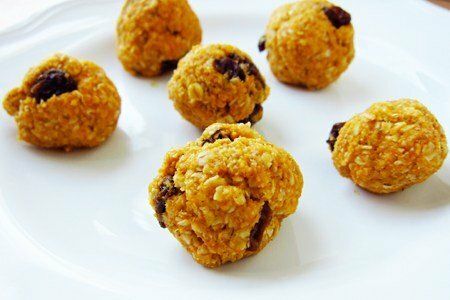 No Bake Pumpkin, Raisin, Oatmeal Cookie Recipe

(makes 12)

Ingredients
1 cup quick oats
¼ cup raisins
¼ teaspoon salt
½ teaspoon pumpkin pie spice
⅓ cup canned pumpkin
1 tablespoon oil (such as canola)
½ teaspoon vanilla extract
2 tablespoons honey

Instructions
Combine all the dry ingredients. Mix in the wet ingredients and roll into balls. Serve or refrigerate them for later consumption.
Nutrition Facts
For one ball = 56 calories, 1.6 g fat, 10 g carbohydrates, 4.8g sugar, 1.0 g protein, 0.8 g fiber, 51 mg sodium, 2 Points+
Points values are calculated by Snack Girl and are provided for information only. See all Snack Girl Recipes
Other posts you might like:
---

One of the biggest hits on Snack Girl has been the No Bake Brownie Balls....
---

Looking for that perfect gift for that special someone? Put down your credit card and rev up your food processor.
---
---
Get Free Email Updates! Yes please!
---