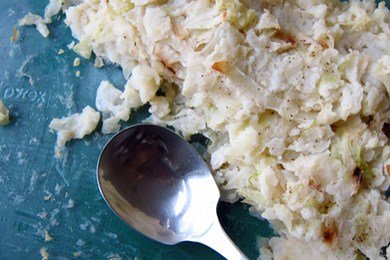 Bubble and Squeak Recipe
Reprinted with permission from Not Your Mother's Casseroles by Faith Durand. (Harvard Common Press).
(serves 8)
1 small head cabbage
1 tablespoon unsalted butter
1 small onion, diced
3 russet potatoes, peeled, cooked, and mashed, or 2 to 3 cups mashed potatoes
1 teaspoon salt
1/2 teaspoon freshly ground black pepper

1. Preheat the oven to 350F and lightly grease the baking dish with nonstick cooking spray or butter.
2. Cut the cabbage in quarters from top to bottom, and cut the stem at an angle to remove the hard inner core. Finely slice each quarter into thin ribbons. Bring about an inch of water to a boil in a deep pot, and ad the cabbage. Cover the pot tightly and cook the cabbage for 7 minutes, or until very tender. Drain and set aside to cool.
3. Heat the butter in a heavy skillet over medium heat. When the butter foams and then subsides, add the onion and cook, stirring frequently, for about 10 minutes.
4. In a large bowl, mix the cooked onion, mashed potatoes, and cabbage with the salt and pepper. Press the mixture into the prepared baking dish and sprinkle the top with a little extra salt and pepper. Bake for 35 minutes, or until golden brown on top. Serve hot.
For one serving: 100 calories, 1.6 g fat, 20.0 g carbohydrates, 2.9 g protein, 4.9 g fiber, 327 mg sodium, 2 Points+
Points values are calculated by Snack Girl and are provided for information only. See all Snack Girl Recipes