The Problem With Casseroles (And A Solution!)
Casseroles are serious comfort food - and you know what species of comfort food: a can of cream of mushroom soup mixed with noodles and frozen peas.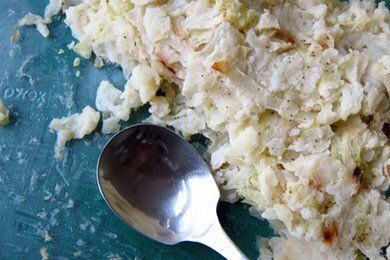 And, yes, I love that combo. But, recently, I was sent a copy of a NEW type of casserole cookbook called "Not Your Mother's Casseroles" by Faith Durand and it has changed my view of this awesome dish.
Faith has created and compiled a collection of inspirational recipes for us casserole lovers. I have tried a couple from the book and they are creative and delicious.
The best thing about casseroles is that you can make a BIG one on Sunday and then eat it all week!
Faith took some time out of her job as editor of the kitchn (which is a seriously addictive food website) to talk about casseroles.
Snack Girl: Why did you do a book on casseroles? Aren't they kinda "old school:?
Faith Durand: Casseroles are totally old school comfort food, and not just in America! They're found all over the world, from India to France. And I think that comfort food never goes out of style; people want food that makes them feel good at the end of a long day.
I do want healthier comfort food, though, which is why I wrote this book. All the casseroles are lightened up just a bit, made fresher or more healthy through whole grains and fresh vegetables.
Snack Girl: Can casseroles be healthy?
Faith Durand: Absolutely! I mean, everyone has their own individual sense of what is healthy for them. But if you want to avoid starches and eat more vegetables, casseroles are one of the best ways to do this.
A golden brown, bubbling gratin of sweet potatoes, turnips, and rutabaga can be totally satisfying without a lot of added cheese. In the oven, aromatics like onions and herbs have time to develop full, rich flavor in a dish, standing in for caloric flavor shortcuts like cream and cheese. The same holds true if you're vegetarian, vegan, or gluten-free.
The oven can make even the most intimidating vegetables taste amazing.
Snack Girl: What is your favorite casserole in the book?
Faith Durand: Oh, impossible! I love so many of them! But if we're talking fall, then I love anything with sweet potatoes; I have a sweet potato gratin in there with caramelized onions and sage that is a little richer. I could eat the whole thing myself. I also love the baked risottos, and this simple gratin of tomatoes, potatoes, and garlic. That's what I'll be making with the last tomatoes from my garden.
Snack Girl: What is your favorite snack?
Faith Durand: My favorite quick snack is a handful of almonds or some peanut butter. But if we're still talking casseroles, I would always eat a slice of toast with a spoonful of the roasted tomatoes I have in the appetizer chapter; it's a terrific snack.
Thanks, Faith!
The recipe below is made with ingredients that are in season now - cabbage and potatoes - and mysteriously this recipe turns them into something luxurious with just one tablespoon of butter.
Give it a try!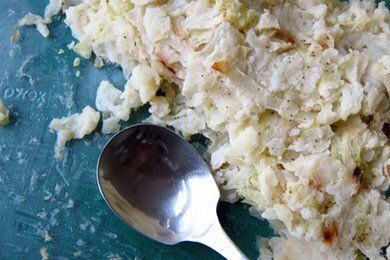 Bubble and Squeak Recipe
Reprinted with permission from Not Your Mother's Casseroles by Faith Durand. (Harvard Common Press).
(serves 8)
1 small head cabbage
1 tablespoon unsalted butter
1 small onion, diced
3 russet potatoes, peeled, cooked, and mashed, or 2 to 3 cups mashed potatoes
1 teaspoon salt
1/2 teaspoon freshly ground black pepper

Ingredients
1. Preheat the oven to 350F and lightly grease the baking dish with nonstick cooking spray or butter.
2. Cut the cabbage in quarters from top to bottom, and cut the stem at an angle to remove the hard inner core. Finely slice each quarter into thin ribbons. Bring about an inch of water to a boil in a deep pot, and ad the cabbage. Cover the pot tightly and cook the cabbage for 7 minutes, or until very tender. Drain and set aside to cool.
3. Heat the butter in a heavy skillet over medium heat. When the butter foams and then subsides, add the onion and cook, stirring frequently, for about 10 minutes.
4. In a large bowl, mix the cooked onion, mashed potatoes, and cabbage with the salt and pepper. Press the mixture into the prepared baking dish and sprinkle the top with a little extra salt and pepper. Bake for 35 minutes, or until golden brown on top. Serve hot.
Instructions
For one serving: 100 calories, 1.6 g fat, 20.0 g carbohydrates, 2.9 g protein, 4.9 g fiber, 327 mg sodium, 2 Points+
Points values are calculated by Snack Girl and are provided for information only. See all Snack Girl Recipes
$19.40 Buy on Amazon.com
As an Amazon Associate I earn from qualifying purchases.
---
Other posts you might like:
---

There is more than one way to create comfort. One way involves lots of calories and icing....
---

Snack Girl has a confession to make. She was a "hater" of vegetable soup. I know it is hard to believe - but I was....
---
---
Get Free Email Updates! Yes please!
---