Olive Tapenade from Clean Food Cookbook
How many of you want to be healthy and sustainable? I'm not sure what sustainable means exactly - but if it means I'm living a long life then bring it on!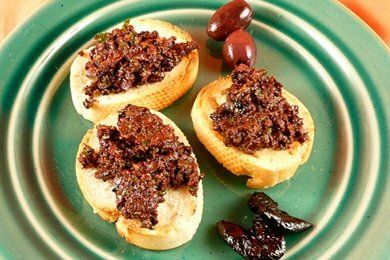 "Clean Food" by Terry Walters (Sterling Publishing, 2009) is a wonderful healthy eating cookbook. The recipes are simple and it uses fresh produce and grains. The idea is that it is a seasonal guide to eating healthy.
This book is vegan and almost entirely gluten free, but you wouldn't really notice. If you are like me, a meat eater, you will be trying new things such as sea vegetables and tofu.
BUT, this food is incredibly nutritious and is worth a try. Ingredients like quinoa, couscous, tempeh, and parsnips are here in abundance. If you haven't ever tried these things you should.
Basically, Terry Walters is trying to convince us to eat more veggies and less meat. She uses beans and soy to make sure we get the protein we need. This type of cooking is naturally low in calories and her recipes look delicious (I only tried 2 - but I loved both of them).
Most of the world eats less than 4 ounces of meat per day. When you think of the staples of developing countries, you think of rice and beans. It is much cheaper and (in the end) better for you to eat less meat.
My suggestion is to look at how much meat you eat per day and then see where you could replace it. Mark Bittman gave up meat until 6 PM, and he lost A LOT of weight.
I didn't completely agree with all the vegetable choices in the seasons, but this could make a difference on where you live. For example, she features a carrot salad in spring and I received carrots in my winter vegetable box.
The olive tapenade below could really be made any time of year (it was in winter) and was absolutely delicious. The key was to buy two types of olives, which I found at my supermarket's olive bar.
You are going to need a food processor for this one, so if you don't have one check out the one below from Cuisinart. I have had this one for 9 years and it kicks butt!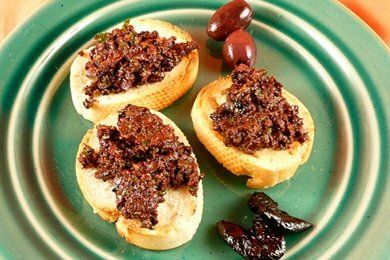 Olive Tapenade From Clean Food
(makes 1 1/4 cups - serves 6)
Ingredients
2 garlic cloves, peeled
1 1/2 cups kalamata olives, pitted
1 cup oil-cured black Greek olives, pitted
2 generous tablespoons capers
1/4 teaspoon dried thyme
1/4 cup fresh parsley
1 tablespoon lemon juice (plus more if desired)
Freshly ground black pepper
Extra virgin olive oil (as needed)
Instructions
With food processor running, drop in garlic and mince. Turn processor off, add olives, capers, thyme, parsley, lemon juice and pepper to taste. Process until smooth, scraping down sides as needed. Add olive oil a little at a time to achieve the desired consistency. Adjust flavor with more lemon juice and transfer to a bowl. Store in airtight container in refrigerator or freezer.
Points values are calculated by Snack Girl and are provided for information only. See all Snack Girl Recipes
$30.00 $14.63 Buy on Amazon.com
As an Amazon Associate I earn from qualifying purchases.
---
This book was received for review consideration. No other compensation was provided.
What is your favorite healthy eating cookbook?
Other posts you might like:
---

Ten cans of Dr. Pepper is a whopping 1500 calories and the equivalent of drinking 24 ounces of coffee in caffeine. Shawn used to drink this almost EVERY day....
---

Two weeks ago, Snack-Girl posted this article: What Everyone Needs to Know About Tostitos....
---

Simple, elegant, and delicious, you can't go wrong with olives for a healthy snack. Olive bars have been popping up in supermarkets all over the country, and I, for one, am a BIG fan....
---

Allergy season is in full swing, and most of us are feeling it. At a recent trip to Barnes & Nobles, I thought a clerk was crying before I realized he was just an allergy sufferer!...
---
---
Get Free Email Updates! Yes please!
---