Can You Eat Bread and Lose Weight?
I knew when Oprah got involved with Weight Watchers things were going to get fun.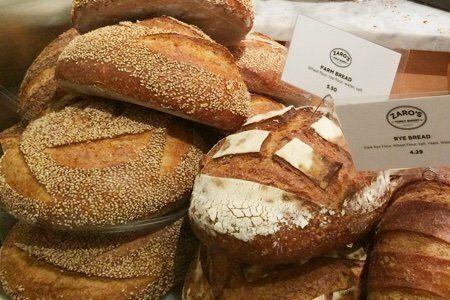 This video cracked me up!
YES! I love bread, too! I believe my last meal would be a loaf of freshly baked sourdough bread still warm from the oven and some salted butter. Ohhhh.
When she says, "I love bread," it occurred to me that she didn't mean the endless bread basket at Olive Garden. She also made something like 8 million dollars (a lot of bread!) when WW stock increased with her "I love bread" proclamation.
But, a leading bread hater decided to tell Oprah that she was wrong about being able to eat bread and lose weight sustainably.
Dr. Willam Davis and author of Wheat Belly decided to write Oprah a letter.
The jist:
Your message that Weight Watchers "works" and that bread can be a part of a diet program thereby propagates destructive and widely-held misconceptions that are increasingly crippling the health of Americans.
Oh my. He equates eating bread with type 2 diabetes and other diseases. He believes refined grains are the cause of much of our problems.
As I sit here eating a massive piece of chocolate cake, I am sure my life will be cut short in minutes.
I shouldn't make fun of this controversy but everyone involved seems so serious. We are talking about bread – a staple of the American diet. Ask anyone who has celiac how hard it is to avoid gluten – and you will realize how prevalent bread is in the food we eat. Pizza, bread crumbs, sandwiches, crackers, burritos, fried chicken….
What are you going to do?
I do think that cutting back on bread is going to help you lose weight but Oprah is right. She is talking about eating ONE slice of Ezekiel bread for breakfast as her once daily bread "fix".
She is not talking about inhaling the bread basket at your local restaurant.
Dr. David Ludwig's new book – Always Hungry? asks you to stop eating all grains for the first two weeks of the diet – and then you can slowly add them back. This seems like a sane approach to me because if you are eating a lot of bread then your insulin levels are up – and cutting it out will help you reset your metabolism.
What do you think of Oprah's bread video? Please share.