Streamline Your Morning in One Step
Do you dread getting out of bed in the morning? Are you overwhelmed by the enormity of the tasks ahead? Take one job off your list right now!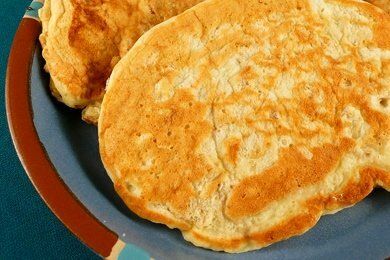 Make wholesome pancake batter the night before and you will have a fantastic breakfast in no time. This recipe will even keep for 2 days, so you can just mix it up in a bowl, place some plastic wrap on it, and you are ready to go.
My friend, Susannah, came up with this when she had trouble feeding her kids anything healthy at all. Kids, sometimes, refuse to eat anything but cookies, pancakes, hotdogs, chicken nuggets, and macaroni and cheese. Parents have a couple of ways to combat this problem.
First, there is the yelling option.
Or, you can mix some stuff in their food without them noticing. This is a less combative approach and makes both sides feel as if they won.
Susannah mixed in oats to make the pancakes 1/2 whole grain. She added yogurt, milk, and eggs to boost the protein and then some sugar to make them taste good. Then, before going to bed, she remembered to mix it together.
This recipe dirties one bowl, one measuring cup, and one measuring spoon for easy clean-up. All you have to do is heat your pan and you are making a hot breakfast for yourself and/or others.
You can also just make a whole batch and microwave them as needed over the week. Tuck them in your lunch bag for an afternoon snack or spread peanut butter on them for a pancakewich (did I just make up a word?).
Another great make ahead recipe is the No Bake Nut Butter Oatmeal Cookie. This one allows you to just grab the plate from the fridge with a spoon and much away. It is easier to prepare than a bowl of cereal!
---
Overnight Pancake Recipe
(serves 4)
3/4 cup white flour
3/4 cup rolled oats (not instant)
1 tsp baking soda
1/2 tsp salt
1 Tbs sugar
1 cup yogurt
1 cup milk
2 eggs

Mix ingredients together in a large bowl. Place in refrigerator overnight. In the morning pour batter in heated non-stick pan until bubbles begin showing on the surface. Turn pancake over with spatula - wait 2 minutes and serve.
---
Do you have an easy and healthy breakfast idea? Please share below.
Want to read about more snacks?
20 Minutes Could Save You 20% or More on Your Health Care Bill
A Grecian Snack for All Time
Save Money, Calories, and the Environment with this Yogurt