What is Food as it Should Be? Panera Asks The Question
I have a problem with companies that drape themselves in a veil of healthy. They are almost always doing something truly hypocritical.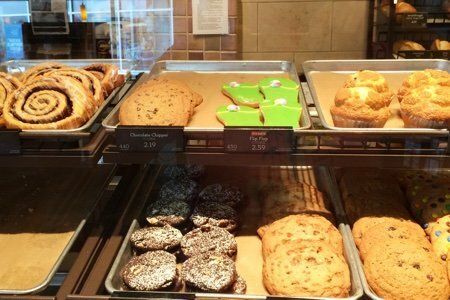 Whole Foods, for example, serves deep-fried buffalo chicken wings in its buffet section while at the same time advertising kale on its grocery bags. Is the kale on the bag supposed to make us feel better about buying and inhaling the chicken wings?
The latest fast food marking campaign that caught my eye is Panera's. The above photo is of their bakery section. They are the latest company to ban artificial colors, flavors, and preservatives from their food –which I think is very nice. As you can see they haven't changed the "flip flop cookie" as of yet but they promise to get to it by 2016.
Here is their latest advertisement featuring a conversation with Ron (their CEO).
He asks us to demand good food from our restaurants so I am now going to do some serious demanding.
Bread is one of your main products – why is the Whole Grain bread not 100% whole grain?
Does good food include a 1050 calorie Steak and White Cheddar sandwich with 17 grams of fat and 1910 grams of sodium?
Why do you insist on drowning your salads in dressing? Can you please get the cashier to ask customers if they want your dressing on the side?
Every single one of my concerns with Panera or any of the other companies excited about taking out food additives is that they aren't cracking the big health issues in American cuisine.
The food can be healthier by ADDING ingredients like ensuring the bread is 100% whole grain.
Portion sizes are way out of control – look at those cookies and cinnamon buns! They are bigger than my eight year old's head. Have smaller options for a lower price.
Give customers options to reduce the calorie impact of your food. Ask them (not unlike Starbucks) how they want it made.
I know that I sound like a crankly old lady and I am sure someone in the comment section is going to tell me to STOP expecting businesses to care about our health.
BUT, Ron, CEO of Panera, is saying he wants to have a conversation and want to be part of the solution because Americans are sick. Maybe I am too positive because I have taken the bait.
Ron, this is Snack Girl. I believe you should change your food in substantive ways so Americans can be supported in becoming more healthy. Don't just remove additives and say you are solving the problem. Additives aren't making people nearly as sick as people eating too many 740 calorie pecan rolls. Do you understand??
On a different note, this year I have been invited to 2 major food companies to give opinions on how to be healthier. This makes me think there is a true discussion happening at this moment in time.
Do you have anything to share with Ron? Am I crazy for even engaging in the discussion?
---
Other posts you might like:
---

If you make the mistake of telling a stranger that you wrote a book about losing weight, you will want to pull your hair out....
---

Some people have no problem with exercise. They get up, run, walk, go to the gym, and move seemingly without effort....
---