The Truth about Panera Bread
Do I want to find a place that serves reasonable priced healthy food on the go? Yes!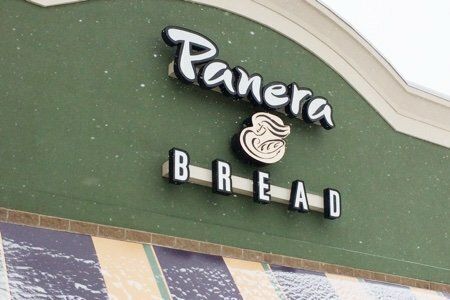 Panera Bread has been billing itself as the "real food" alternative to the other places that I will not mention (but you know who they are).
Panera is a fast casual restaurant serves soups, sandwiches, coffee and pastries and I want to like the place. For example, instead of chips you can choose an apple as a side for your sandwich – hurray!
But, there are some large issues with their menu that might be deceptive for consumers who aren't sitting around reading Panera's nutrition facts because they have nothing else to do. Since I love to read nutrition facts – I have noticed a couple of major issues.
1. Their whole grain bread isn't 100% whole grain. The first ingredient is regular old white flour. Real food (to me) means 100% whole grain and no white flour in a bread that is advertised as "whole grain".
2. Their healthier options can have a ridiculous amount of sodium. For example a bowl of low-fat vegetarian black bean soup has 1120 mg of sodium. Are you kidding me? A Big Mac has 970 mg of sodium making it look good compared to the low-fat black bean soup if you are watching your sodium. It is hard to make a Big Mac look good.
3. They sell TWO over 1000 calorie sandwiches – the Steak and White Cheddar Panini and the Italian Combo Sandwich on Ciabatta. Real food can also be interpreted as "good for you" and I can tell you right now that eating a 1000 calorie sandwich is not good for you. Maybe half would be okay (but I'm not sure).
I suppose my message is that in the world of fast casual you have to order VERY carefully to eat healthily.
You may feel better about yourself because you chose Panera over McDonald's but the real test is what you order. You can do better at McDonald's with their salads (dressing on the side) and even the Big Mac if your penchant is to order the Steak and Cheddar Panini.
What do you think of Panera? Please share.
---
Other posts you might like:
---

Would anyone suggest that eating a pack of Oreos is a healthy breakfast?...
---

I knew when Oprah got involved with Weight Watchers things were going to get fun.....
---