Patriotic Strawberries
Patriotic strawberries are a thing. Look at these! How can you resist their colors?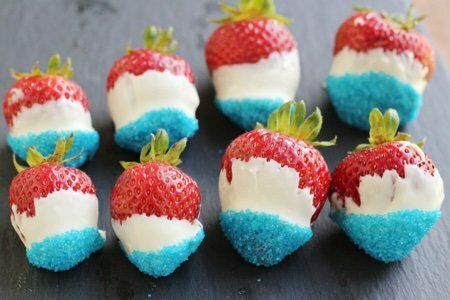 You don't have to live in the USA for these to be relevant because 28 countries have red, white and blue flags. Australia, France, Chile, Russia, Norway, Serbia, Panama…… Choose your favorite and celebrate!
July Fourth, the USA's party to celebrate independence is right around the corner but you don't have to cook anything to make these. I believe these are the perfect patriotic treat.
Of course, you can do some fruitskewers or strawberries stuffed with sweetened cream cheese topped with a blueberry and not use your kitchen.
These patriotic strawberries only use three ingredients and take mere minutes to make.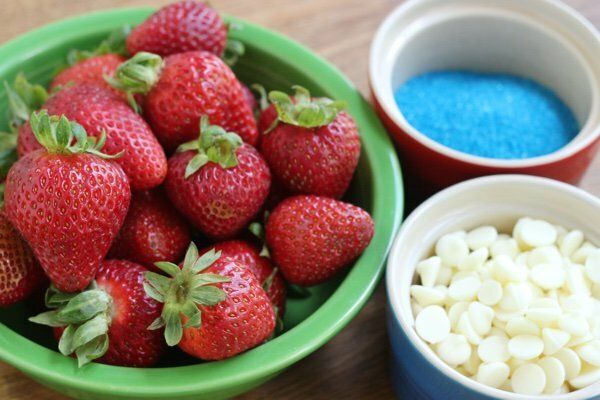 Strawberries, blue sugar, and white morsels combine to make this fun dessert. White morsels used be called "white chocolate" until the FDA decided that to be called white chocolate the candy must have at least 20% cocoa butter, 14% milk solids, and 3.5% milk fat. My $2 bag of white morsels does not fit the bill.
Does it matter? No, because it still tastes pretty good.
I have posted these in the past (three years ago) and got criticized because they are sugary. These are a treat and every once in a while (rarely) I do post something that is not totally healthy. I do think these are much better for you then many treats but these are an indulgence.
My 12 year old daughter and I made these together and as you can see she dipped more than the strawberries into the white morsels. We had a lot of fun attempting to make the perfect strawberry and she kept eating the mistakes. After a while, I began to think she was messing up on purpose!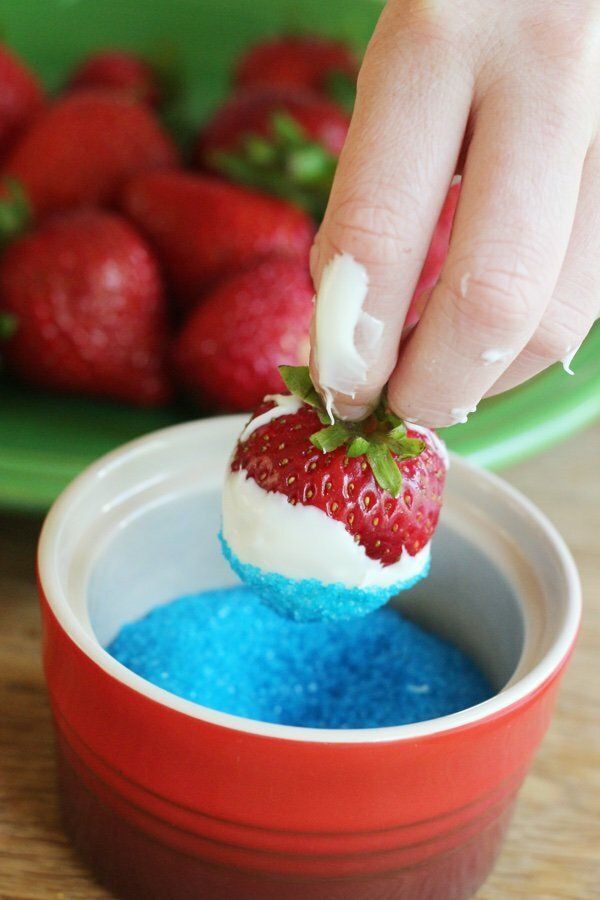 The sweetness of the morsels is a delicious contrast to the strawberry. Also, there is a little crunch that happens because of the sugar. Sweet, crunchy, soft, sour, fruity…..aaah!
Bring these to a BBQ or don't share them at all. Eat them, slowly, one at a time, and feel grateful for summer and all the tasty strawberries that show up. For me the combination of sun and strawberries is pure heaven.
I also love how these are a clear portion size and you will be aware of how many you eat because you leave the beautiful green leaves still attached. If your plate fills with these, you know you have to share with your family a wee bit more.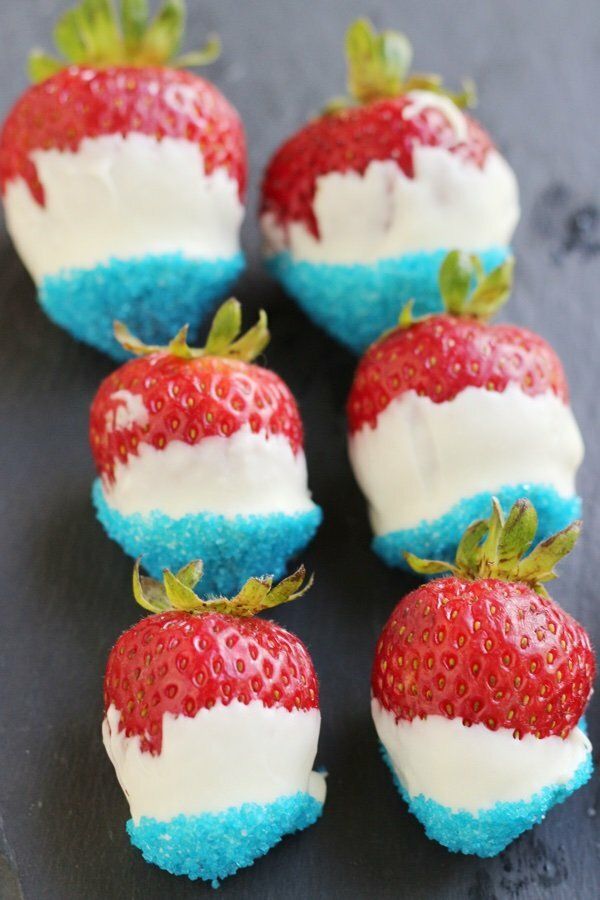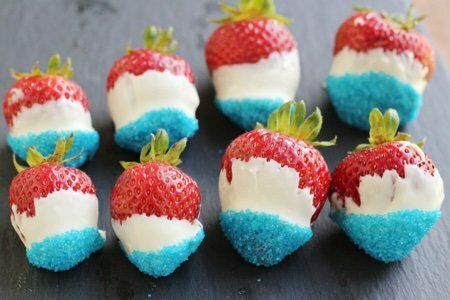 Red, White, and Blue Strawberries Recipe

Makes about 12 strawberries

Ingredients
1 pound strawberries, washed and dried with paper towels
½ cup white morsels
¼ cup blue decorating sugar

Instructions
Line a baking sheet with parchment paper or waxed paper. Heat white morsels in a small cup in the microwave for 20 seconds at a time until melted and smooth. Dip strawberries one at a time in morsels and then sugar creating a three colored berry. Place on parchment paper and allow to harden (about 10 minutes). Store in the refrigerator in a sealed container or serve immediately.
Nutrition Facts
For one strawberry = 66 calories, 2.4 g fat, 1.4 g saturated fat, 11.3 g carbohydrates, 10.2 g sugar, 0.7 g protein, 0.8 g fiber, 7 mg sodium, 3 Freestyle SmartPoints
Points values are calculated by Snack Girl and are provided for information only. See all Snack Girl Recipes
Other posts you might like:
---

Looking for something easy, delicious, portable and fun? Check out my fruit skewers....
---

Simple and beautiful reign! We are into spring and strawberries are happening....
---
---
Get Free Email Updates! Yes please!
---