Peanut Butter Flavor Without The Calories: PB2
Snack Girl features peanut butter A LOT. I happen to love the stuff and I use it almost every day.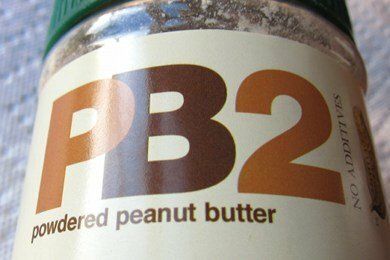 My children's school recently outlawed nuts and I was heart broken. PB&J saves me on mornings when I haven't had time to shop.
The BEST peanut butter contains roasted and ground peanuts without any extra sugar or oil. The processing of peanuts to make peanut butter is minimal and I consider it a "whole food".
For the people out there that are trying to slim down, peanut butter is a bit of a problem. Here are the nutritional facts for 2 tablespoons of plain peanut butter:
190 calories, 16 g fat, 7 g carbohydrates, 8 g protein, 3 g fiber, 0 mg sodium, 5 Points+
Ouch.
But, you get 4% of your daily value of iron, and 10% of your daily value of both vitamin E, and folate. This stuff is chocked full of nutrients so these are not EMPTY calories. (those are the worst :)
In my opinion, peanut butter should not be avoided because it is nutritious and inexpensive.
What if you wanted to cut down on your peanut butter consumption?
Enter PB2, a powdered peanut butter that has 85% less fat calories than traditional peanut butter. Here are the nutritional facts for 2 tablespoons of PB2:
45 calories, 1.5 g fat, 5 g carbohydrates, 5 g protein, 2 g fiber, 94 mg sodium, 1 Points+
Yeahhhhh.
So, I was against trying this stuff because I thought it would taste yucky (to use a scientific term). I bought some of it on Amazon.com because so many people told me to give it a try. Here it is what it looks like: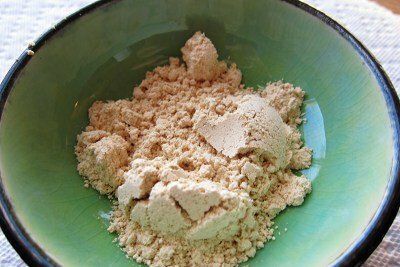 You mix it with water to make this: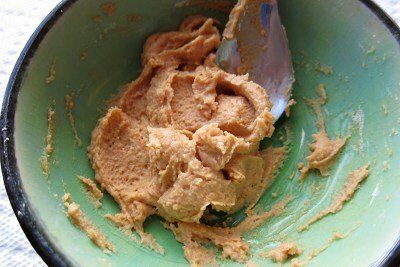 I got out some spoons and tasted it alongside my regular peanut butter. I am shocked and happy to say that PB2 tastes yummy. I would not have known that the fat was missing. It has a strong peanut flavor and in one swoop I save 145 calories!
There is a major downside to using PB2 instead of regular peanut butter. The nutrients are now missing from the peanut butter. I guess they left with the fat. 0% DV of Iron, etc.
Now, after drying it into a powder, it is no longer a whole food but a processed food (and it has added sugar).
But, I am still a fan because I use it as more of a flavoring agent not as the center of my sandwich. I can add some to a smoothie or mix it with some sauces to make a tasty dip.
Bell Plantation also puts out a PB2 with chocolate (that I haven't tried) - but it gets good reviews on Amazon. It has 45 calories for two tablespoons.
You can find PB2 at Walmart, Target, and a whole bunch of retail stores.
Do you use PB2? What do you use it for?
---
$7.21 ($1.11 / Ounce) Buy on Amazon.com
As an Amazon Associate, I earn from qualifying purchases.
---
$7.34 ($1.13 / Ounce) $6.25 ($0.96 / Ounce) Buy on Amazon.com
---
Other posts you might like:
---

The photo above and peanut butter are not exactly the same things. I got a wee bit carried away with peanut butter making....
---

Snack Girl has long advocated for an apple and peanut butter for a perfect snack. Basically, you got your fruit with a another whole food (peanuts) just blended up. Super yum!....
---