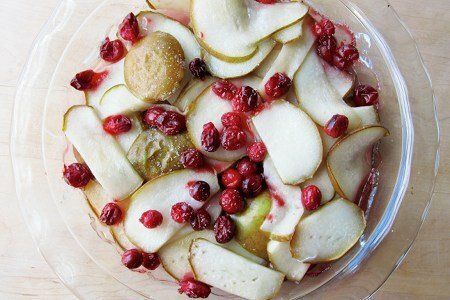 Naked Pear and Cranberry Pie Recipe

(serves 8)

Ingredients
4 large ripe green pears (Bartlett)
1 cup fresh cranberries
¼ cup sugar plus 2 teaspoons
3 tablespoons cornstarch
1 teaspoon cinnamon
2 tablespoons water

Instructions
Preheat oven to 375. Slice two pears and layer in bottom of pie plate. Add ½ cup cranberries. Slice the last two pears and layer onto the cranberries. Add final ½ cup cranberries to the top.
Mix the ¼ cup sugar, cornstarch, and cinnamon in a small bowl with the water. Pour over the pie. Cover the pie with foil and bake for 40 minutes. Uncover, sprinkle with 2 teaspoons sugar, and bake for 10-20 minutes uncovered or until pears are tender.
Can be served warm or room temperature.
Nutrition Facts
106 calories, 0.1 g fat, 0.0 g saturated fat, 27.9 g carbohydrates, 18 g sugar, 0.5 g protein, 4.0 g fiber, 2 mg sodium, 3 Points+
Points values are calculated by Snack Girl and are provided for information only. See all Snack Girl Recipes