A New Lighter Thanksgiving Pie To Try
Do you ever want to make a pie and don't have a crust or want to make one? There is a simple solution.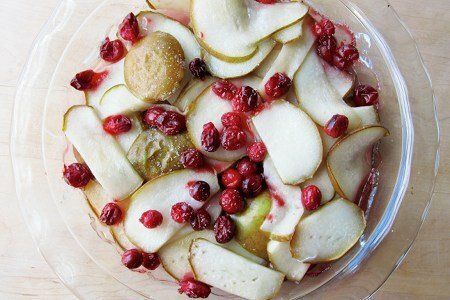 Don't use a crust.
I know it sounds lazy, but you don't actually need the crust to get the homey goodness of pie. I made this pie without any pastry and it was so good that I didn't notice it was missing. I like to call it "naked".
The key to success is to use the in season fruit that surrounds us. Bartlett pears are in season and so are cranberries. Combine the two with some sugar and you have a sweet and sour tasty dessert.
Serve this warm with some ice cream or just eat it cold. This looks festive because of the cranberries so you could serve it at Christmas or as a lighter alternative to pumpkin or pecan pie.
Of course, I want you to enjoy your favorite pie on Thanksgiving and just forget about the calories. But, maybe you are looking to try something new. I am saved every year from the calorie bomb that is pecan pie because both my husband and daughter are allergic to pecans.
No one in my house is allergic to pumpkin (or eggs, cream, and copious amounts of sugar), so there is always a pumpkin pie to contend with.
How do you cope with holiday pies?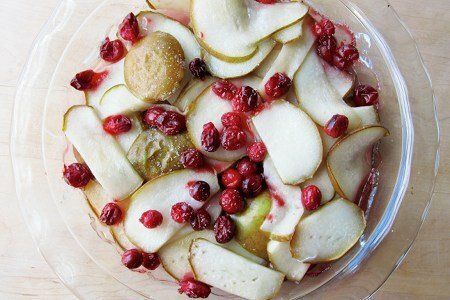 Naked Pear and Cranberry Pie Recipe

(serves 8)

Ingredients
4 large ripe green pears (Bartlett)
1 cup fresh cranberries
¼ cup sugar plus 2 teaspoons
3 tablespoons cornstarch
1 teaspoon cinnamon
2 tablespoons water

Instructions
Preheat oven to 375. Slice two pears and layer in bottom of pie plate. Add ½ cup cranberries. Slice the last two pears and layer onto the cranberries. Add final ½ cup cranberries to the top.
Mix the ¼ cup sugar, cornstarch, and cinnamon in a small bowl with the water. Pour over the pie. Cover the pie with foil and bake for 40 minutes. Uncover, sprinkle with 2 teaspoons sugar, and bake for 10-20 minutes uncovered or until pears are tender.
Can be served warm or room temperature.
Nutrition Facts
106 calories, 0.1 g fat, 0.0 g saturated fat, 27.9 g carbohydrates, 18 g sugar, 0.5 g protein, 4.0 g fiber, 2 mg sodium, 3 Points+
Points values are calculated by Snack Girl and are provided for information only. See all Snack Girl Recipes
Other posts you might like:
---

Here at Snack Girl headquarters clothing is optional (for the 4 and under set). This is also true of our pies....
---

This healthy apple crisp recipe is THE dessert of fall. It only uses one apple!....
---
---
Get Free Email Updates! Yes please!
---