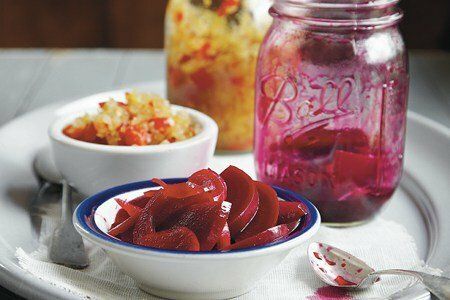 Pickled beets with allspice and ginger
reprinted with permission from "Southern Living Around the Southern Table" by Rebecca Lang, Oxmoor House 2012
(12 servings)

Ingredients
6 fresh medium beets (about 3 lb.)
1⁄2 sweet onion, cut into 1⁄4-inch-thick slices (about 11⁄4 cups)
3 (1⁄8-inch-thick) fresh ginger slices
1 tsp. black peppercorns
3⁄4 tsp. whole allspice
2 cups cider vinegar (5% acidity)
¾ cup sugar
2 tsp. kosher salt

1. Trim beet stems to 1 inch; gently wash. Place in a medium saucepan with water to cover. Bring to a boil; cover, reduce heat, and simmer 25 to 30 minutes or until tender. Drain, rinse, and cool slightly (about 15 minutes).

2. Peel beets, halve lengthwise, and cut crosswise into 1⁄4-inch-thick slices.

3. Divide beets and onion slices among clean canning jars or other heatproof, nonreactive containers with lids. Divide ginger and next 2 ingredients among jars.

4. Combine vinegar, remaining ingredients, and 1 cup water in a medium saucepan. Bring to a boil, stirring to dissolve sugar and salt. Pour hot vinegar mixture into jars, covering beet mixture completely and filling to 1⁄2 inch from top. Let cool 10 minutes; cover and chill 24 hours before serving. Store in refrigerator up to 3 weeks.

Instructions
Makes: 3 (1-pt.) jars Hands-on Time: 15 min. Total Time: 1 hr., 15 min., plus 1 day for chilling

Nutrition Facts
For ¼ of 1 pint jar: 109 calories, 0.2 g fat, 0.0 g saturated fat, 24.7 g carbohydrates, 21.9 g sugar, 2.0 g protein, 2.4 g fiber, 477 mg sodium, 3 Points+
Points values are calculated by Snack Girl and are provided for information only. See all Snack Girl Recipes