Pickled Beets From "Around The Southern Table"
It is beet season and time to get cooking. Don't they look festive?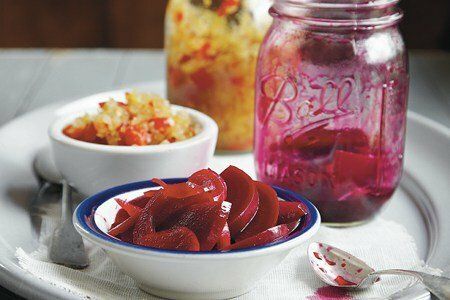 Today, Snack Girl is shouting out to her favorite southern town, Athens, Georgia. After five long years of gradual school, the place grew on me. Was it meeting the band REM that convinced me that the place was cool?
Nooo. Though that was pretty fun.
The cuisine of the region, with its grits, fried green tomatoes, and boiled peanuts, is distinctive. A new book by Athens native Rebecca Lang has hit the bookshelves and it has sweet tea, fried chicken, and biscuits.
Yum!
And picked beets, which Rebecca was nice enough to share with us. I happen to love pickled beets and they are super easy to make. You do not have to formally "can" these (heat up the jars). These will pickle in your refrigerator and make a great side or salad addition.
If you are looking for a present for a aficionado of Southern cuisine, "Around The Southern Table" is a great choice. The photos are inspiring and the food is easy to make.
Is it healthy? Some of it is and some of it isn't. Many of the recipes fall into the "treat" category, but a cookbook like this reminds you to stay off the stale donuts and save up for the really good stuff.
Have you tried pickling beets? What are your favorite "treat" cookbooks?
Photo credit: Jennifer Davick.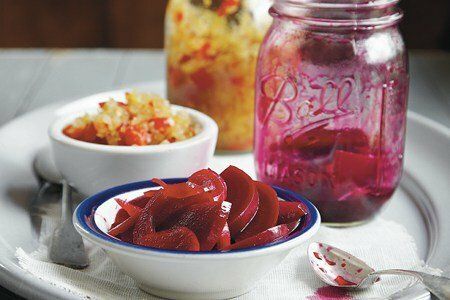 Pickled beets with allspice and ginger
reprinted with permission from "Southern Living Around the Southern Table" by Rebecca Lang, Oxmoor House 2012
(12 servings)

Ingredients
6 fresh medium beets (about 3 lb.)
1⁄2 sweet onion, cut into 1⁄4-inch-thick slices (about 11⁄4 cups)
3 (1⁄8-inch-thick) fresh ginger slices
1 tsp. black peppercorns
3⁄4 tsp. whole allspice
2 cups cider vinegar (5% acidity)
¾ cup sugar
2 tsp. kosher salt

1. Trim beet stems to 1 inch; gently wash. Place in a medium saucepan with water to cover. Bring to a boil; cover, reduce heat, and simmer 25 to 30 minutes or until tender. Drain, rinse, and cool slightly (about 15 minutes).

2. Peel beets, halve lengthwise, and cut crosswise into 1⁄4-inch-thick slices.

3. Divide beets and onion slices among clean canning jars or other heatproof, nonreactive containers with lids. Divide ginger and next 2 ingredients among jars.

4. Combine vinegar, remaining ingredients, and 1 cup water in a medium saucepan. Bring to a boil, stirring to dissolve sugar and salt. Pour hot vinegar mixture into jars, covering beet mixture completely and filling to 1⁄2 inch from top. Let cool 10 minutes; cover and chill 24 hours before serving. Store in refrigerator up to 3 weeks.

Instructions
Makes: 3 (1-pt.) jars Hands-on Time: 15 min. Total Time: 1 hr., 15 min., plus 1 day for chilling

Nutrition Facts
For ¼ of 1 pint jar: 109 calories, 0.2 g fat, 0.0 g saturated fat, 24.7 g carbohydrates, 21.9 g sugar, 2.0 g protein, 2.4 g fiber, 477 mg sodium, 3 Points+
Points values are calculated by Snack Girl and are provided for information only. See all Snack Girl Recipes
Other posts you might like:
---

Why do people hate beets? Maybe grandmothers forced beets on to poor defenseless grand children. Or they haven't had tried fresh beets!...
---

Have you ever wondered what snacks exist in other countries? Well, Snack Girl is on the case!....
---
---
---
$29.95 $8.33 Buy on Amazon.com
As an Amazon Associate, I earn from qualifying purchases.
---
---
Get Free Email Updates! Yes please!
---