A Beautiful Spring Treat
There is zero FD&C Red #40 in those lovely hard-boiled eggs. That brilliant color is the product of a natural source.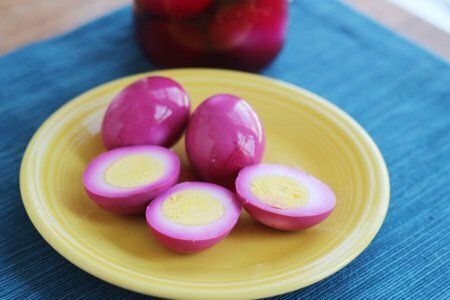 Wanna guess?
Beets! I mixed canned beets, white vinegar, and hard-boiled eggs in a Mason jar and this is what happened. The eggs (after 3 days of marinating in the fridge) become pickled and purple.
These would be a fun Easter treat but they also work for every day. Eat them plain for a snack (I add a little bit of salt), slice and put them on a salad for a dash of protein, or make a stunning deviled egg appetizer.
I read pickled eggs are a mainstay bar snack in some parts of the world and are excellent to chase with a shot of vodka – but you didn't hear that from me (I will deny it if you ask me if I gave you this idea).
You can eat the pickled beets as well (and toss them into a salad, etc.)
The only hard part of this recipe is peeling all those eggs. Here is a video that I found that looks like the fastest way to get it done.
I love his "roll on the plate" method at the end. I use that every time. Also, cooling the eggs with ice will make them easer to handle.
Give these pickled eggs a try! Have you pickled eggs?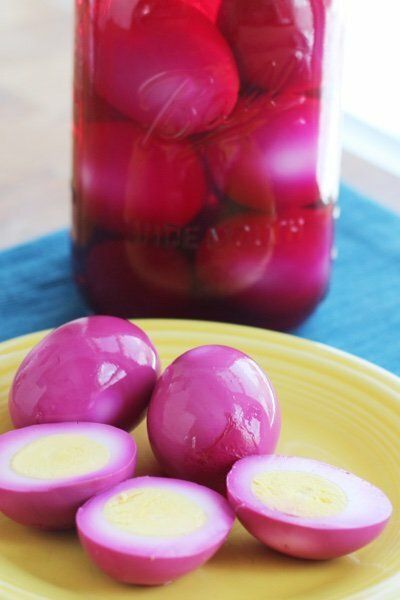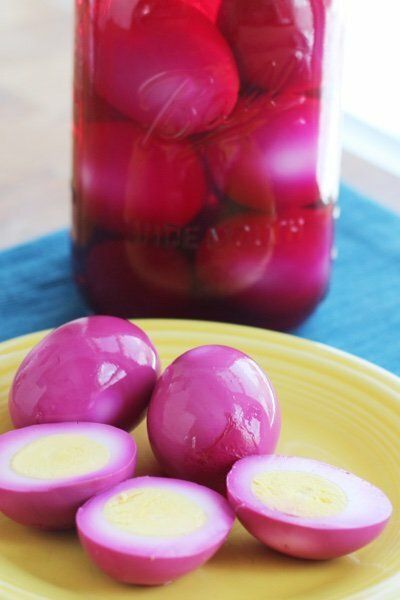 Purple Pickled Eggs Recipe
Makes 12 eggs
Ingredients
12 large eggs
1-15 ounce can whole beets with their juice (or sliced ones if you can't find whole)
2 cups white vinegar
Instructions
Heat a large saucepan with enough water to cover the eggs to a boil. Using a spoon place eggs in water and then lower the heat to a simmer. Cook for 15 minutes.
Put pan into sink and add ice to cool and wait 15 minutes. Peel eggs.
Place 12 eggs into two 1 quart mason jars (6 in each jar). Add ½ the beets and beet juice to each jar. Then add 1 cup of white vinegar to each jar and top the jars with water so the eggs and beets are submerged.
Place in refrigerator and wait three days to enjoy. Pickled eggs last one month (maybe more) in the refrigerator.
Nutrition Facts
One egg is 91 calories, 5.0 g fat, 1.6 g saturated fat, 3.3 g carbohydrates, 2.5 g sugar, 6.6 g protein, 0.6 g fiber, 141 mg sodium, 3 SmartPts
Points values are calculated by Snack Girl and are provided for information only. See all Snack Girl Recipes
Other posts you might like:
---

This isn't really a cookie, but it is pretty close....
---

The asparagus has started rolling in even though I am still wearing a puffy winter coat....
---
---
Get Free Email Updates! Yes please!
---