Who Loves Planet Fitness?
After attempting to run outside when the weather got bad, I decided to find a gym.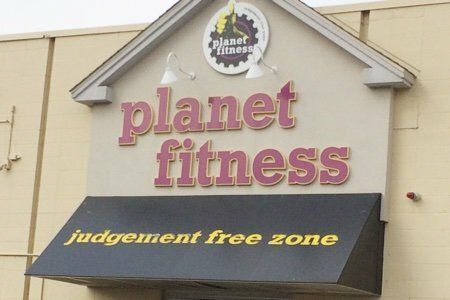 My running habit, which I started in July, had never been through a Massachusetts winter and I wanted to keep going. When I ran outside when it was below freezing, I found that I had trouble breathing because the air was SO cold.
I didn't have the money or space for a treadmill so I looked around for a gym and found myself standing in front of Planet Fitness. Planet Fitness is seriously ugly. Here is my view from the treadmill: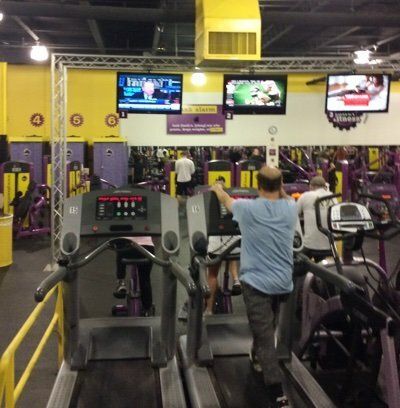 As you can see, they use purple and yellow (what?) to make the gym look festive. There are no windows and there are many screens. Just what I needed – more screens! Lately, I have been looking at Trump, Hillary, Cruz, Sanders and Kasich as it seems that they are the only people worth covering on CNN.
Other than the hideous color combination, Planet Fitness is pretty great. Every time I go there, I run into yet another friend who is using their service while the weather is bad. EVERYONE is here! (who knew?).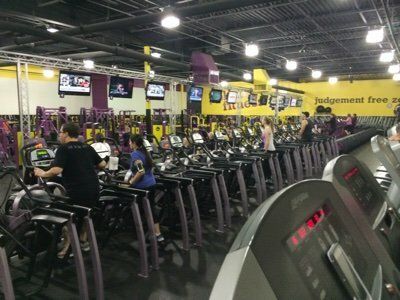 It only costs $10 to sign up and then $10 per month to remain a member of one club. Since I only need it for the winter months, I am cancelling soon – and they have promised me it will be easy.
The one thing that I do not understand is this: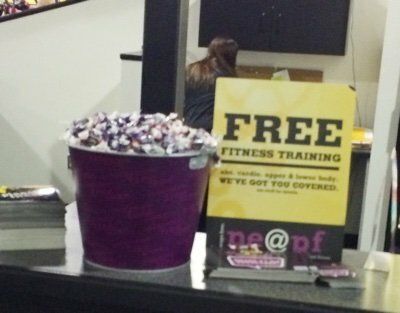 Why is there a bucket of candy in a gym? Are they somehow confused that the people who go there are in need of Tootsie Rolls?
Personally, I find it very strange for a place that is promoting fitness on the planet to give out free candy. I could see free kale or carrots!
Please share your Planet Fitness stories.
Other posts you might like:
---

Snack Girl recently heard about a gym that charges $160 per month for something called "Cross-Fit".
---

Isn't that couch cute? I would love to sit on it for a while....
---