How To Pick A Healthy Jam or Jelly
It isn't that hard to find a healthy jam or jelly if you know what to look for.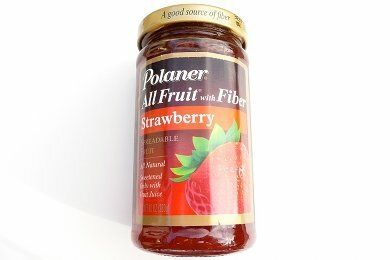 First, we need to talk about the difference between jam and jelly. Jelly is a clear fruit spread made with sweetened fruit juice and jam has both fruit juice and fruit pieces in the spread. The healthier choice will be jam because it has more fruit in it (and less sugar).
Check out my article called What is the healthiest peanut butter? – you are going to need some P to go with the J. Also, if you like to experiment try my Strawberry Chia Refrigerator Jam – it has NO sugar added (but it does have some dates).
I decided to take a look at my favorite jam that I buy without question. The "Bonne Maman" brand, made in France, reminds me of my 20's when I lived in Paris for 4 months. Without thinking, I pop this one in my cart because of a sentimental attachment (and I like the taste).
BUT, is it healthy? Well, Bonne Maman, after spending a good 40 minutes in the jam aisle (worrying if security was going to interrupt me), I found Polaner All Fruit. The only thing I could find that differentiated jams from one another is the amount of sugar added to the fruit.
For a serving of Polaner All Fruit, I was looking at 6 grams of sugar and 35 calories and Bonne Maman has 12 grams of sugar and 50 calories. AND, Bonne Maman costs more! (when you have a cute checkered top and you are imported from France, you get to charge a premium.)
What about the taste? The Polaner jam was less sweet, but it tasted great. I have made many PB&J's with this stuff and I haven't even noticed the lack of sugar. It is made with just concentrated fruit juice and fruit with pectin. It is my new cheaper and lower calorie "go to" jam.
Do you have a favorite healthy jam?
---
Other posts you might like:
---

What is the Healthiest Peanut Butter? It should be easy to find the healthiest peanut butter but it isn't....
---

I have been getting into chia seeds. One reason for my infatuation is that I found them at Aldi for $3. Hurray!...
---