Time to Buy a Pomegranate
This arrived yesterday via space ship. Should we eat it or make friends with it?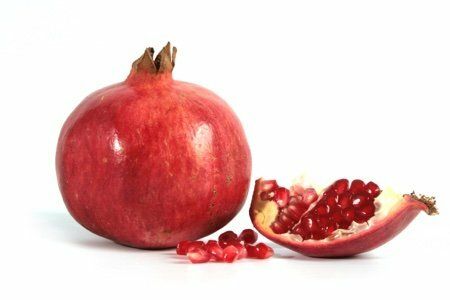 Actually, this is a pomegranate and it arrived by truck from California. If you have never bought one and tried it – I suggest you will love it.
A pile of pomegranates greeted me yesterday when I entered my local Stop & Shop. I paid $2.50 for one.
Pomegranates are in season from October through February and will last in your fridge for three to four weeks unopened. Once you seed them, you should eat them within two to three days or you can freeze the seeds for later consumption.
The key is knowing how to seed them. This video has been viewed 1.7 MILLION times so it must be good. He uses a wooden spoon and spanks the pomegranate.
You may have to endure a short advertisement, but it is completely worth it because it IS that easy to seed a pomegranate.
I eat the entire seed (red juicy part and crunchy seed part) and my son will polish off half a pomegranate if you aren't watching him.
What to do with the seeds?
Eat them as a snack
Toss them on a salad
Garnish a soup
Add them to sparkling wine
Put them in your yogurt
Top your ice cream or goat cheese
They are packed with nutrients, yummy, and festive. How can you lose?
What do you do with pomegranates? Please share.
---
Other posts you might like:
---

You know how pasta and cheese is the ultimate comfort food combination? What if the cheesy part was only 100 calories per cup?....
---

Last year I posted this recipe and thought, "No one is going to read this."....
---