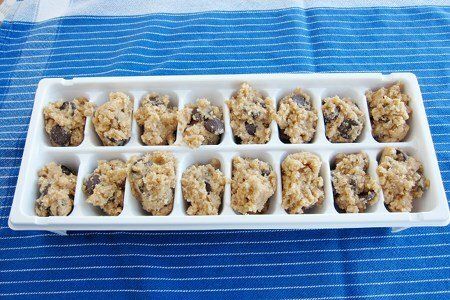 Chocolate Chip Cookie Recipe

Makes 20 cookies
1 stick unsalted butter
1/2 cup white sugar
1 egg
1 cup whole wheat flour
1/4 teaspoon baking soda
1/4 teaspoon salt
1/2 teaspoon vanilla
1 cup bittersweet chocolate chips

Preheat oven to 375 F. If you have an electric mixer, cream butter, sugar and egg. If you don't, just soften butter in the microwave for 10 to 20 seconds (make sure it doesn't melt) and beat with a fork.
Add the dry ingredients, stir in by hand and then stir in the chips. Drop spoonfuls of batter onto an ungreased cookie sheet, and bake for about 10 minutes.
For the frozen cookies, preheat the oven to 375 F. Place frozen cookie on ungreased baking sheet. Bake for 12-15 minutes or until light brown. Enjoy!
For one cookie - 111 calories, 6.5 g fat, 13.2 g carbohydrates, 1.5 g protein, 0.7 g fiber, 83 mg sodium, 3 Points+
Points values are calculated by Snack Girl and are provided for information only. See all Snack Girl Recipes