A Portion Control Trick For Baking Cookies
Are you sitting around your home baking because it is cold outside? What about snow days with kids?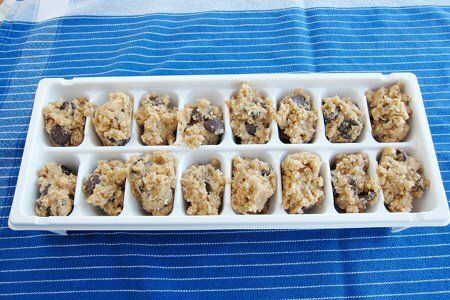 I am baking cookies because it is a fun activity, but I don't actually want that many in the house. What to do?
Last year, I wrote a post where I froze the dough in an icecube tray and it went crazy. Everyone thought I was a genius and some people didn't know where to find icecube trays.
For those of you with ice makers in your refrigerators, you can find icecube trays at any Target or Dollar store for about $1-$3 each. They are the perfect sized for a single cookie.
Why is this so great? You don't have to bake all the cookies that you make! Yesterday, I made my favorite chocolate chip cookies, which I insist you read about below. I baked 8 of them and froze the other 12 for a later date.
Hello! This way, we only eat fresh baked cookies and we have a stash premade so I don't have to get out the flour, sugar, salt, etc.
Why do I love this recipe? I:
Use whole wheat flour. Yes, it will give them a nutty flavor and a bit of nutrition!
Use high quality bittersweet chocolate chips. I found Ghiradelli in my local grocery store and they are special (and worth it).
Eat them right after they are cool enough to eat.
When I was a kid, we only could buy Nestle brand chocolate chips. Have you looked at the baking aisle lately? There are so many chocolate choices! Go with one that costs a little more and gives you a quality chocolate experience.
If you really need a cookie, bake your own. Not only do you get the satisfaction of producing something, but your house will smell really good.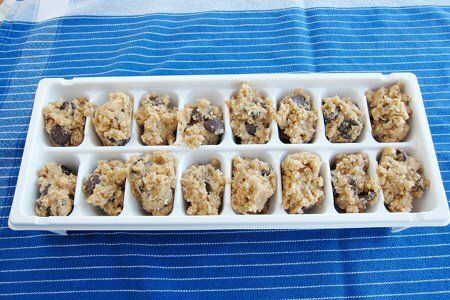 Chocolate Chip Cookie Recipe

Makes 20 cookies
1 stick unsalted butter
1/2 cup white sugar
1 egg
1 cup whole wheat flour
1/4 teaspoon baking soda
1/4 teaspoon salt
1/2 teaspoon vanilla
1 cup bittersweet chocolate chips

Preheat oven to 375 F. If you have an electric mixer, cream butter, sugar and egg. If you don't, just soften butter in the microwave for 10 to 20 seconds (make sure it doesn't melt) and beat with a fork.
Add the dry ingredients, stir in by hand and then stir in the chips. Drop spoonfuls of batter onto an ungreased cookie sheet, and bake for about 10 minutes.
For the frozen cookies, preheat the oven to 375 F. Place frozen cookie on ungreased baking sheet. Bake for 12-15 minutes or until light brown. Enjoy!
For one cookie - 111 calories, 6.5 g fat, 13.2 g carbohydrates, 1.5 g protein, 0.7 g fiber, 83 mg sodium, 3 Points+
Points values are calculated by Snack Girl and are provided for information only. See all Snack Girl Recipes
---
$6.37 Buy on Amazon.com
As an Amazon Associate, I earn from qualifying purchases.
---
Other posts you might like:
---

Did you grow up with the commercial where the chocolate bar ended up in the peanut butter? I am probably dating myself....
---

If you read Snack Girl enough, you know that I like a challenge. I had seen vegan cookies at cafes and thought, "no butter, no eggs, equals a disgusting cookie"....
---
---
Get Free Email Updates! Yes please!
---