Fire Up Your Grill and Make Some Mushroom Fajitas
My pal, Aviva Goldfarb of The Six O'Clock Scramble has all the same problems that I do (well, maybe not all of them).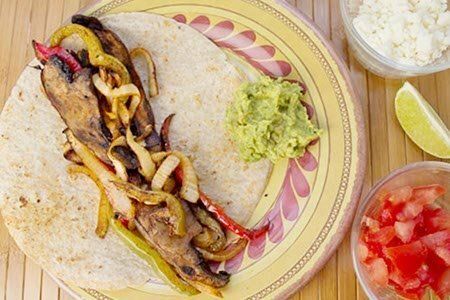 She has kids, a career, and the desire not to call the pizza guy too many nights a week. She came up with this brilliant and easy fajitas recipe either using the grill or the slow cooker to make mushrooms taste like meat. Yum!
I like the idea of marinating mushrooms before cooking them. I do that with chicken and steak and I love the myriad of flavors when they combine.
If you only let your man to grill, then you are missing out. First of all, it is super easy to grill (don't let anyone tell you otherwise) and it is a great way to cook something fast. Also, standing outside is nice at the end of the day and there are no pans to clean. I have been working on my grilling skills for a few years, and my Aussie husband sometimes asks for my advice. Sometimes.
This mushroom fajitas recipe is one of the many that Aviva provides in her recipe subscription service -The Six O'Clock Scramble.
All of the Scramble's recipes include complete nutritional information and Weight Watchers points so you can align them with your health and nutrition goals.
It costs $3-$6 per month for the subscription and you get two weeks for free to give it a try. Sign up here: The Six O'Clock Scramble
Snack Girl receives a small percentage of sales from the above link to The Six O'Clock Scramble.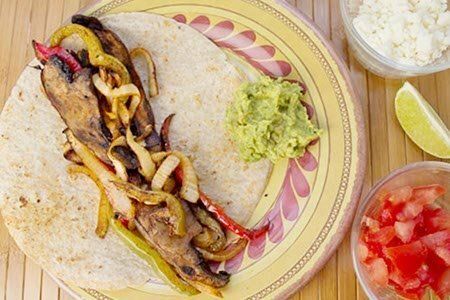 Grilled Portobello Mushroom Fajitas Recipe
From Aviva Goldfarb The Six O'Clock Scramble
Prep (15 minutes) + Cook (20 minutes) + time to marinate
6 servings
Portobello mushrooms are a meaty vegetable, and just like beef or chicken, they take well to marinades and grilling. (However, if you don't want to grill them, these would be equally good cooked in a cast iron skillet.) Serve them with refried beans and cantaloupe.
Ingredients
6 oz. portobello mushroom caps, sliced, or use ¾ - 1 lb. boneless, skinless chicken breasts
1 large yellow onion, halved top to bottom and thinly sliced
2 green bell peppers, thinly sliced
¼ cup extra virgin olive oil
1/8 cup balsamic vinegar
1 Tbsp. chili powder
½ tsp. salt
1 ½ tsp. minced garlic (about 3 cloves)
6 medium whole wheat or flour tortillas (soft taco size)
½ cup crumbled goat or feta cheese
¾ cup sour cream, for serving (optional)
¾ cup chunky salsa, for serving (optional)
Instructions
Put the mushrooms, onions and peppers in a large resealable bag. Combine the oil, vinegar, chili powder, salt and garlic, and add it to the bag with the mushrooms. Massage the vegetables gently to coat well with the marinade. Refrigerate for at least 30 minutes and up to 48 hours.
Preheat the grill to medium-high heat. Spray a vegetable grilling tray or a piece of foil with nonstick cooking spray, or brush it with a little vegetable oil, and heat it on the grill. Drain the vegetables in a colander and transfer them to the grilling tray. Grill them with the cover closed for about 15 minutes, flipping them once, until they are tender and partially browned but not charred. (Meanwhile, prepare the side dishes.)
Heat the tortillas in the microwave or on a hot skillet for 30 seconds to 1 minute so they are soft and warm. Place about ½ cup of the vegetable filling on the center of each tortilla, top it with about 2 tsp. cheese, and about 1 Tbsp. each sour cream and salsa, if desired. Fold the bottoms up and the sides in and serve them immediately.
Slow Cooker Directions: No need to marinate the vegetables in advance. Place the mushrooms, onions and peppers in the slow cooker. Combine the oil, vinegar, chili powder, salt and garlic, and pour over the vegetables, stirring to combine. Cook for 3 hours on high or 6 - 10 hours on low, then assemble and serve with warmed tortillas as directed.
Do Ahead or Delegate: Slice the mushrooms, onion and bell pepper, peel the garlic, make the marinade and marinate the vegetables.
Scramble Flavor Booster: Double the chili powder and/or serve the fajitas with spicy salsa.
Tip: For a gluten-free alternative, use corn tortillas in place of whole wheat or flour tortillas here.
Side Dish suggestion: Heat 1 or 2 cans vegetarian or nonfat refried beans in a small skillet on the stovetop until they are heated through, or according to the directions on the can(s).
Side Dish suggestion: Peel, remove seeds and cut 1 cantaloupe into bite-sized pieces. If it needs more flavor, toss it with 1 tsp. superfine sugar and a little fresh lemon or lime juice.
Nutrition Facts
One taco is 230 calories, 14g fat, 3.5g saturated fat, 11mg cholesterol, 510mg sodium, 22g carbohydrates, 1.5g fiber, 3g sugar, 5g protein, 6 Points+
Points values are calculated by Snack Girl and are provided for information only. See all Snack Girl Recipes
Other posts you might like:
---

Are you feeling stressed out and guilty about providing haphazard, unhealthy dinners to your family?....
---

You know what? It isn't that hard to make healthy pizza. Pizza would always be pretty healthy if we chose not to put 1/2 pound of cheese on every slice....
---
---
Get Free Email Updates! Yes please!
---