Pure Protein Bars Review
This Pure Protein Bars review is the latest in my ongoing quest to find the best protein bar.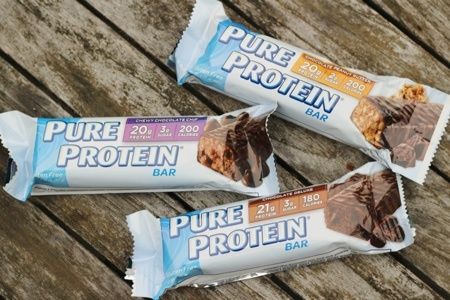 There are so many on the market! I have taken a look at Built Bar Review and thinkThin Protein Bars and many others that I did not feature.
The latest bar is Pure Protein and I include it because unlike the Built Bar, you can find it in CVS, Walgreens, Target, and Costco. You can buy ONE and see if you like it (except if you buy them at Costco).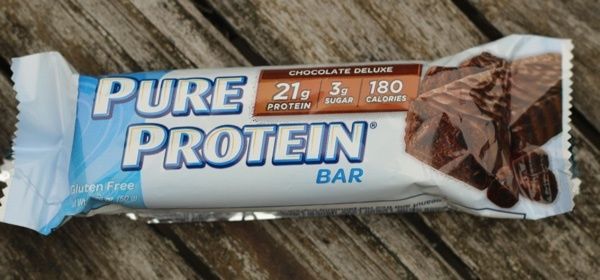 They do remind of the Built Bar because they are a bit of a chemical experiment to get you a product that looks and tastes like a candy bar.
The ingredients for the Chocolate Deluxe are:
Protein Blend (Milk Protein Isolate, Whey Protein Isolate, Whey Protein Concentrate), Chocolate Flavored Coating (Maltitol, Fractionated Palm Kernel Oil, Whey Protein Concentrate, Cocoa, Calcium Carbonate,Natural Flavors, Soy Lecithin, Sucralose), Hydrolyzed Collagen, Glycerin, Cocoa Powder, Water, Milk Chocolate Drops (Sugar, Whole Milk Powder, Chocolate Liquor, Cocoa Butter, Milk Fat, Soy Lecithin, Natural Vanilla Flavor), Maltitol Syrup, Peanut Flour, Natural Flavors, Sucralose, Almond Butter, Soy Lecithin.
Nutrition Facts for the Chocolate Deluxe:
One bar is 180 calories, 4.5 g fat, 3 g saturated fat, 17 g carbohydrates, 3 g sugar, 4 g sugar alcohol, 21 g protein, 2 g fiber, 85 mg sodium, 5 Freestyle SmartPts
The bar is under 200 calories (which is good but I wish it was around 150). Also, as you can see there are sugar alcohols and this message is on the package:
Warning: This product contains sugar alcohols, which may cause gastrointestinal discomfort. Excessive consumption may have a laxative effect.
I did not have a problem with these (and I do have a problem with sugar alcohols). Perhaps there wasn't enough to trigger a response.
I thought that this bar did taste like chocolate and it surprised me that there was no yucky sucralose after taste.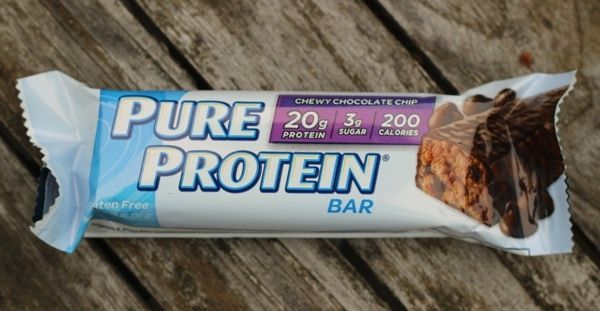 This Chocolate Chip Pure Protein bar tasted chalky and terrible. If I had tried this one first, I would never have bought another one. It was cloyingly sweet and odd in texture. FAIL!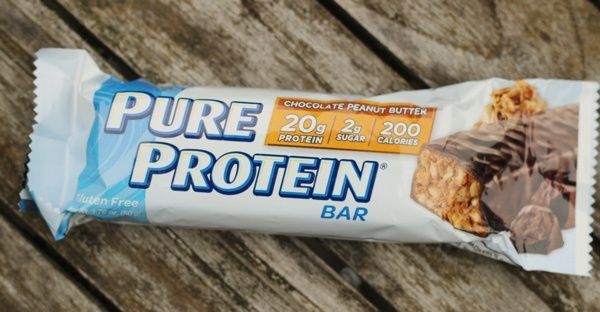 I liked the Chocolate Peanut Butter Pure Protein bar the most of all of the flavors. It is remarkably like a chocolate, peanut butter candy bar. Would I eat this on a regular basis? Probably not, but I would stuff it in my purse for a trip.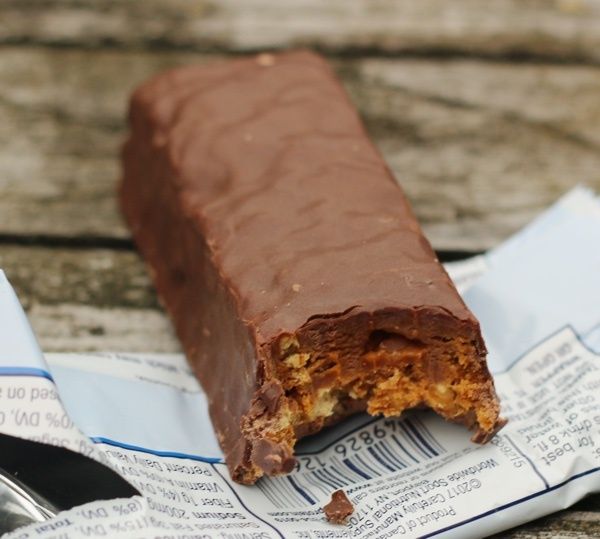 These are chewy, like a Snickers Bar (but without the caramel or peanuts). I guess they are like nougat.
The manufacturer (Canadian) suggests that you drink a glass of water when you eat one and my guess is that it helps you digest the bar.
Do I think these are the best choice? I would still try to go with unprocessed food when you can but these are good in a pinch because they are lower in sugar than most of the bars on the shelf.
Other posts you might like:
---

This Built Bar review was inspired by a bunch of comments on a previous post and is my personal (non-sponsored) opinion of these bars.....
---

There are so many bars on the market and a reader asked me if I thought thinkThin high protein bars are a healthy choice.....
---