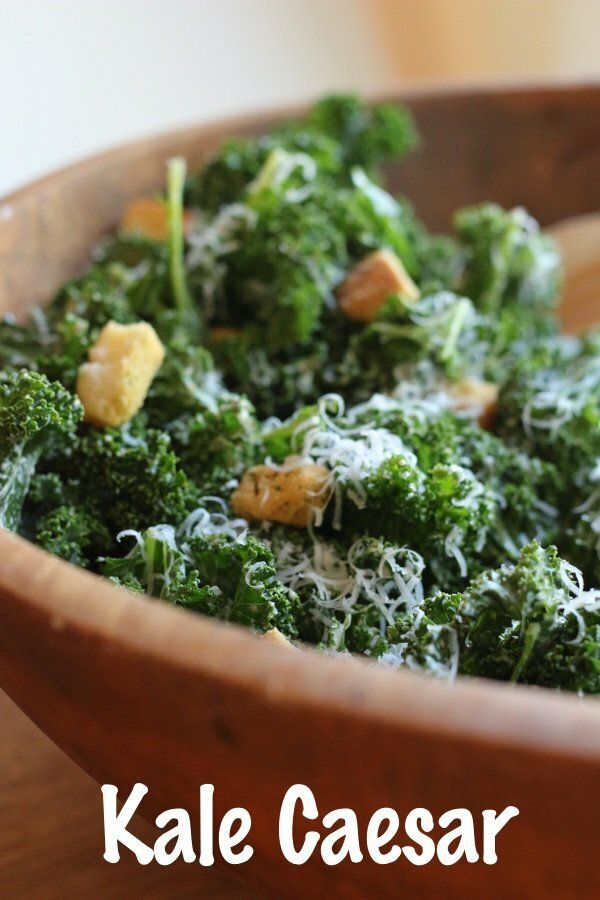 Raw Kale Caesar Salad Recipe
Makes 6 servings
Prep time: 10 min
Cook time: 0 min

Ingredients
1 large bunch kale (about 1.5 pounds), washed and stripped off stems
2 tablespoons olive oil
1/3 cup plain Greek fat-free yogurt
2 tablespoons fresh lemon juice
1 garlic clove, minced
2 teaspoons Worcestershire sauce
1 teaspoon anchovy paste
1 teaspoon Dijon mustard
½ teaspoon ground black pepper
grated Parmesan and croutons, optional

Instructions
Place kale in large bowl and pour over 1 tablespoon of olive oil. Massage into kale for 2 minutes to soften it.
Whisk yogurt, lemon juice, garlic, 1 tablespoon olive oil, Worcestershire sauce, anchovy paste, mustard, and black pepper in a medium bowl. Pour over kale and toss until all the leaves are coated.
Serve immediately or store for later consumption. It will last about three days in a tightly covered container in the refridgerator.
Nutrition Facts
Makes 6 large servings (without cheese and croutons) = 133 calories, 8.6 g fat, 1.3 g saturated fat, 13.2 g carbohydrates, 1.0 g sugar, 5.0 g protein, 5 g fiber, 135 mg sodium, 3 Green, 3 Blue, 3 Purple WW SmartPts
Points values are calculated by Snack Girl and are provided for information only. See all Snack Girl Recipes