A Grab And Go Breakfast from Snack Girl To The Rescue!
How many of you need to be saved from the Egg Mcmuffin? Or a huge muffin? Do I have a recipe for you!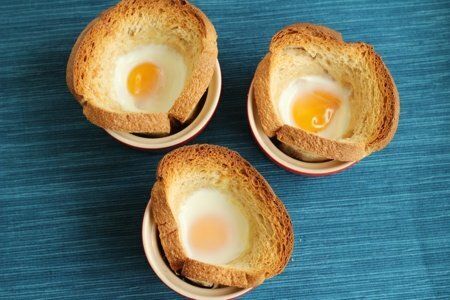 This recipe is one of the 100 easy, affordable, and yummy recipes that you will find in Snack Girl To The Rescue!. If you grab your breakfast on the road, then this egg sandwich will help you stop that habit. Call me a traditionalist, but I like to have eggs and toast in the morning.
These are so much fun to make. All you do is shove bread into a buttered muffin tin or ramekin, then drop in some cheese and a medium egg. My kids get a kick out of making these; anyone over the age of eight can make them. I precook six of them on the weekend for the crazy week ahead.
These are best made in ramekins, which are small glazed ceramic dishes. If you don't own any, you can always find them at thrift stores because, for some reason, people don't use them and they give them away.
When I want breakfast, I just put some plastic wrap over the finished product—still in the ramekin—then heat it in the microwave for a minute or two and enjoy!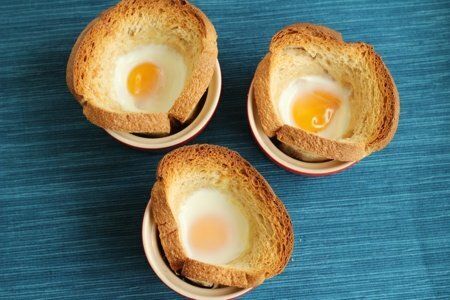 Baked Eggs and Cheese in Toast Cups
reprinted with permission from Snack Girl To The Rescue!
Serves 1
Ingredients
1/4 teaspoon butter (salted or unsalted)
1 slice 100% whole-wheat bread
1 tablespoon grated sharp Cheddar cheese
1 medium egg
salt and pepper to taste
Instructions
Preheat the oven to 375 F. Soften the butter in the microwave (if using a ramekin, just put in the dish). Using a paper towel, butter the dish so that the toast will not stick.
Squeeze the bread into the cup, tearing it a bit to make it fit. Push the bread against the sides of the cup to make space for the cheese and egg.
Sprinkle the grated cheese into the bread cup and add the egg. For a runny egg, bake for 15 minutes; for a half-soft, half-hard yolk, bake for 20 minutes; and for fully cooked, bake for 25 minutes.
Add salt and pepper and serve.
If you make a bunch of these ahead of time, store them wrapped in plastic wrap in your refrigerator for one week.
The nutrition facts for all recipes in Snack Girl To The Rescue is included. Weight Watchers PointsPlus values are not included in the book because of copyright issues.
Nutrition Facts
165 calories, 8.7 g fat, 3.7 g saturated fat, 12.9 g carbohydrates, 2.4 g sugar, 10.3 g protein, 3.0 g fiber, 262 mg sodium, 3 SmartPts
Points values are calculated by Snack Girl and are provided for information only. See all Snack Girl Recipes
---
$17.99 $12.27 Buy on Amazon.com
As an Amazon Associate, I earn from qualifying purchases.
---
---
Get Free Email Updates! Yes please!
---