Refrigerator Dill Pickles Recipe
This refrigerator dill pickles recipe with stop you from ever buying pickles again.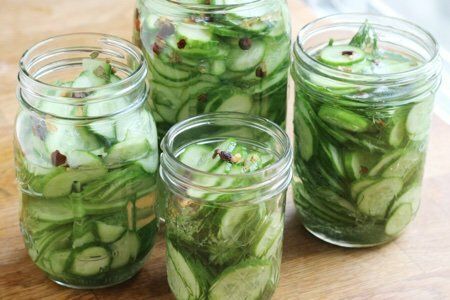 I have done pickled green beans and pickled carrots on Snack Girl but never cucumbers.
What was I waiting for? I have no idea. Maybe I thought cucumbers were too obvious.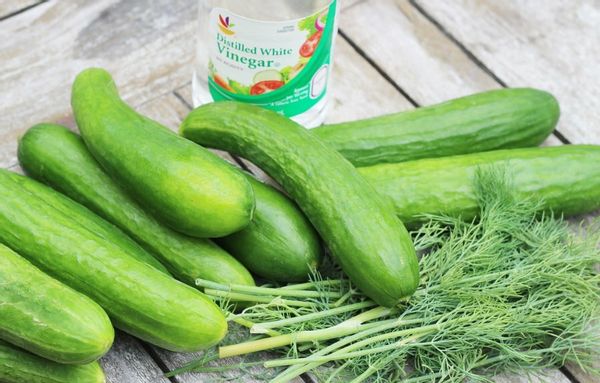 Fresh pickles are so wonderful to put on sandwiches, burgers, in salads, on your toast – whatever! They are easy to make, especially if you have a food processor on hand with a mandolin slicer.
You are not allowed to laugh at this photograph: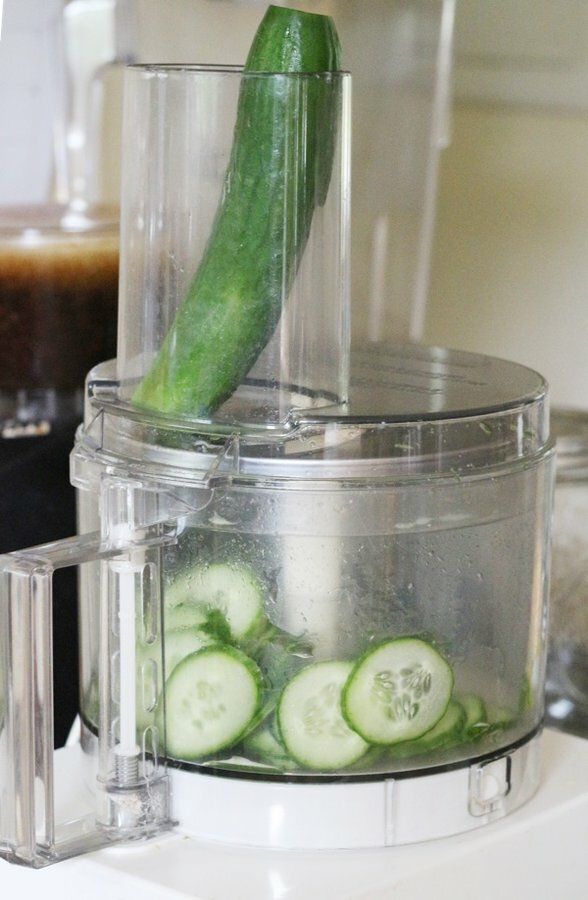 I can see you laughing! I sliced 2 pounds of small cucumbers in about 1 minute, tossed them into jars with dills, made a quick pickling juice and was DONE in no time flat.
Then, they lasted in my refrigerator for about 2 hours after they were finished because every one in my family loves pickles (except the dog).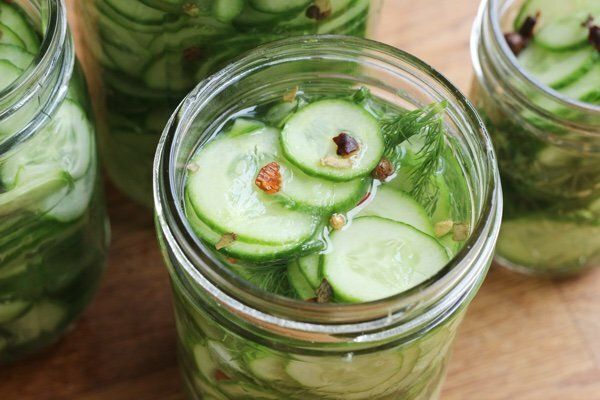 I used pickling spice because I had some hanging out in my spice drawer. You can use whatever you want to flavor dill pickles – red pepper flakes, cardamom pods, peppercorns, garlic, or nothing!
This makes it more fun to make pickles when you can customize them. The below recipe has ½ the salt than the original recipe that I started with because I found it too salty – maybe YOU will find my recipe too salty.
These are refrigerator pickles because you are not going to do the final step of canning them so that they can be put on the pantry shelf. You have to heat the jars and seal them.
I don't want to can these pickles because the process cooks the cucumbers a bit and makes them mushy. This way, the cucumber is raw and it is crunchier (which I like). The downside is that they will go bad after about a week versus the canned version which will survive Armageddon.
Have you made refrigerator pickles? How do you season them?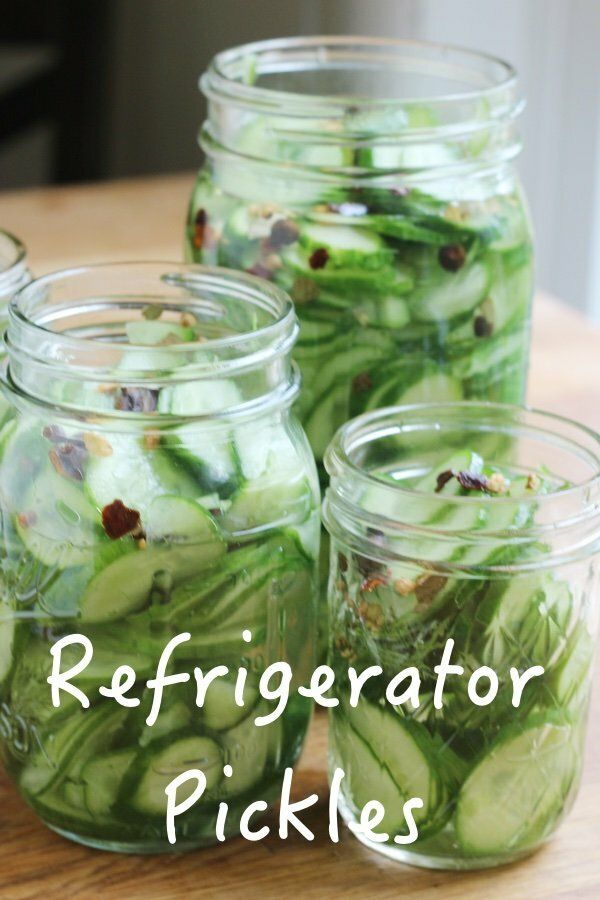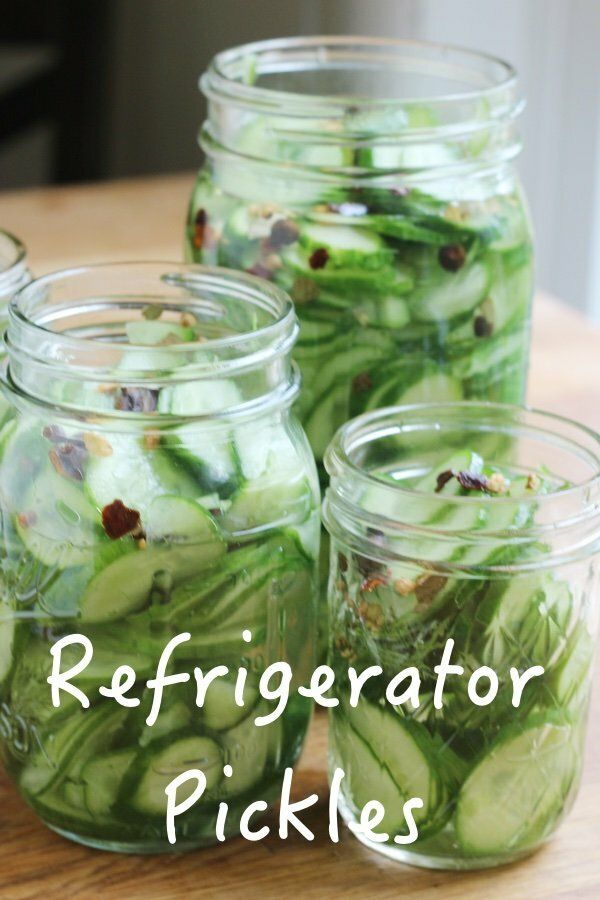 Refrigerator Dill Pickles Recipe

Makes 2 ½ quarts

Ingredients
2 pounds (about 10-12) small cucumbers or Kirby cucumbers
4 cups water
2 cups white vinegar
½ teaspoon sugar
1 tablespoon kosher salt
fresh dill sprigs
2 teaspoons pickling spice or peppercorns (optional)

Instructions
Slice cucumbers on the mandolin of a food processor. Mix water, vinegar, sugar, salt, and pickling spice (if using) in a medium saucepan and heat until salt and sugar dissolves.
Pack a couple of dill sprigs in mason jars along with cucumber slices. Pour in pickling solution to cover and place in refrigerator.
These are ready to eat in 2 hours but can be store and eaten for a week.
Nutrition Facts
20 cucumber slices = 26 calories, 0 g fat, 0.0 g saturated fat, 4.2 g carbohydrates, 1.9 g sugar, 0.6 g protein, 0.6 g fiber, 705 mg sodium, 0 SmartPts
Points values are calculated by Snack Girl and are provided for information only. See all Snack Girl Recipes
---
Other posts you might like:
---

I know you probably think it is time for potato chips – but you are wrong....
---

Do you hate limp carrots? Do you buy a bag of carrots only to find that half of them are rotten by the time you get to eat them?...
---
---
Get Free Email Updates! Yes please!
---