I know that everyone is out shopping right now but I like to plan ahead.
Every year Snack Girl traffic goes through the roof in January because people decide that this year will be the year that they will get healthy. I literally hear crickets in December and then BAM everyone wants to get their hands on some healthy recipes and tips.
I have decided to start mentioning resolutions before January 1st because you need more than a goal – you need a plan to complete the goal.
My buddy, Marj, shared this incredible website with me -stickK.com. I don't know how I missed it because it is a great resource for those of us who have trouble STICKING to our goals.
stickK.com was started by two Yale University professors who have made it FREE for individual users (businesses pay to use it). During graduate school at M.I.T., one professor and a colleague made a wager to lose 40 pounds each, and to referee one another so as to stay on target.
They lost the weight because they had someone to keep them on target and money on the line.
The site works like this – you pick a goal. This goal can be lose 10 pounds, exercise three times a week, eat only one candy bar a week, save money, practice yoga……whatever you want!
You pick the time frame – so you can choose to lose 10 pounds over 6 months if that is what will work for you. Then, you find a person who will "referee" you – ensure that you are completing your goal. That person will sign into stickK.com and update your progress. If you miss a week, this person will keep you accountable.
Now, here comes the good part. You can choose to put money on the line and you can choose to give yourself money or a charity if you make the goal – or give the money away to a charity, friend, foe, or cause that you don't believe in if you fail for that week. They charge your credit card each week for the amount that you are either giving away (if you fail) or keeping (going to where you want it to go). Check out this list of polar opposites to choose from: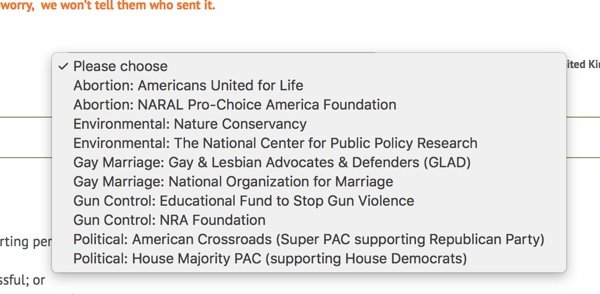 I am not endorsing any of these groups. This is the list from stickK.com and you get to choose your group. As you can see they are opposites on issues that may be hot buttons for many of us in the USA. For example - the NRA versus a pro gun control group. If you feel strongly that there should be common sense gun reform - you could set it up that when you MISS your goal - $10 goes to the NRA. Do you think that would keep you on task?
Here is a success story from Dana:
Having turned pudgy and lethargic…I used stickK to try to change my lifestyle. The combination of peer surveillance and the threat of losing money to the Christian right was the perfect combination. I lost 16 pounds, [and] went from toiling on a treadmill to taking private Pilates lessons...all since joining stickK."
The site says that users who put money on the line and have a referee tend to do best. 78% of these users achieve their goals, as compared to only 35% who put no money down.
I'm thinking hard about my goal for the New Year. My problem is that I have so many to choose from!
What would your goal be and how might you achieve it? Does sticKK sound like a good idea?