My Friends Use To Laugh At Me...And THEN I Made This Broccoli Recipe
Do you think Snack Girl is done trying to convince you to eat broccoli? I will NEVER give up (really).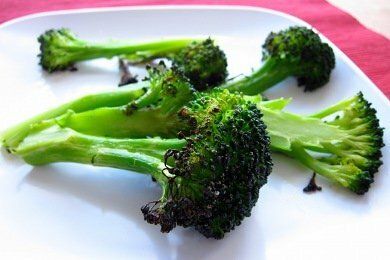 Back in January, I took a stab at convincing broccoli haters to eat broccoli again with a broccoli and peanut sauce recipe.
But, I am not done.
I kept working on the "how to make broccoli delicious" concept and came up with a broccoli recipe that includes a SECRET ingredient that I will now share with you.
Sugar.
Mind blowing, no?
Have I made broccoli unhealthy by adding some sugar? Well, if you believe that one teaspoon of sugar - a mere 15 empty calories - is going to ruin your 2 pounds of broccoli - then I feel for you.
The idea is pretty simple. You add sugar to the broccoli so that when it roasts you get a sweet flavor (and it caramelizes a bit). And, yes, add some olive oil too!
Also, you need to cut the broccoli lengthwise (like in the photo) and cook it a very high heat. This way, you seal in the lovely flavors and the result is unlike any broccoli you have ever tasted.
Sweet, crunchy, aaaah.
Be sure to follow the exact directions below. My husband neglected to preheat the baking sheet (and he used a glass casserole dish) and the broccoli didn't get soft enough for the kids to eat.
I guess he doesn't trust me :)
Make a whole bunch of this broccoli and keep it in your fridge for snacking. You can add this to your favorite salad as a welcome change or just create an entire salad of this recipe.
My 6 year old devoured this broccoli and asked for more! (I was thrilled.)
It can be served cold, room temperature, or hot and would make a great party snack.
This recipe boasts 337% of your daily value of Vitamin C and 9% of your daily value of Iron. Broccoli is just a fantastic source of nutrients!
Have you tried adding sugar to broccoli?"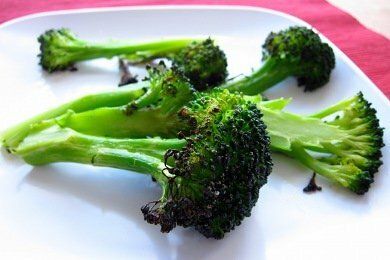 Roasted Broccoli Recipe
(makes 4 servings)
Ingredients
2 pounds broccoli crowns
2 tablespoons extra virgin olive oil
1/2 teaspoon salt
1 teaspoon sugar
ground black pepper (optional)
Instructions
Preheat oven to 500F. Cover the bottom of a large rimmed baking sheet with aluminum foil (not necessary but aids in clean-up). Place sheet on the lowest rack of the oven while oven heats up.
Cut crowns into 4 wedges LENGTHWISE (see photo above). Place broccoli in bowl and add olive oil, salt, sugar, and pepper to taste (optional). Toss to combine. When oven is heated, place broccoli on baking sheet and roast for 11 minutes (until slightly browned). Serve and enjoy!
Nutrition Facts
Per serving: 141 calories, 7.6g fat, 16.1 g carbohydrates, 6.4 g protein, 5.9 g fiber, 366 mg sodium, 2 Points+
Points values are calculated by Snack Girl and are provided for information only. See all Snack Girl Recipes
Other posts you might like:
---

How many of you out there hate Brussels Sprouts? I bet you are really looking forward to them on your Thanksgiving table....
---

Wouldn't it be cool if the snack aisle of your supermarket had bags of delicious cauliflower? Alas, you are going to have to break out your kitchen knife and make your own.
---
---
Get Free Email Updates! Yes please!
---