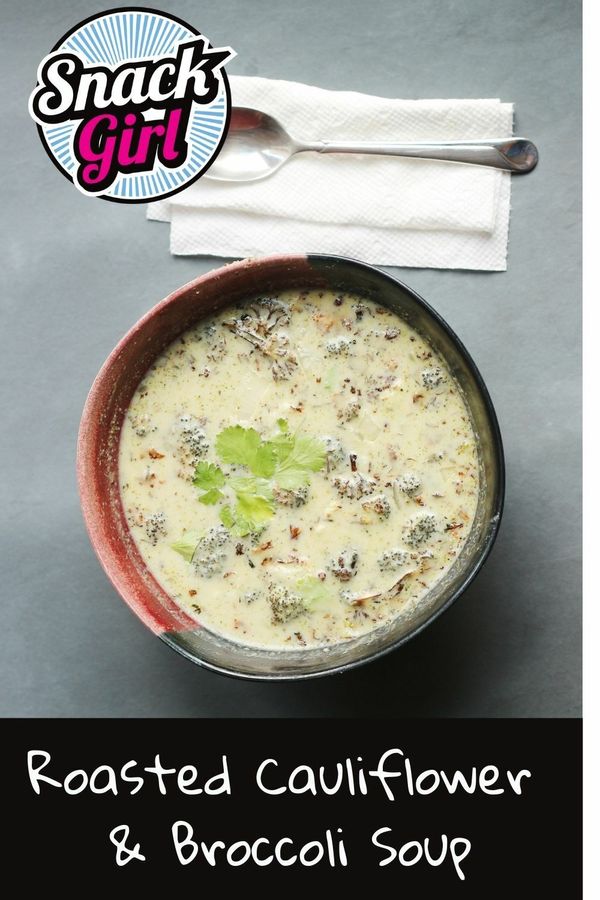 Roasted Cauliflower and Broccoli Soup Recipe
Makes 10 cups
Prep time: 10 min
Cook time: 30 min

Ingredients
1 large head cauliflower (about 1.5 pds), cored and cut into 1-inch florets
2 crowns of broccoli (about 1.5 pds), cut into 1-inch florets
2 tablespoons olive oil
1 onion, chopped
6 cups chicken or vegetable stock (low sodium)
1 cup half and half
1 teaspoon dried thyme

Instructions
Heat oven to 450 F. Line two rimmed baking sheets with parchment paper and put broccoli and cauliflower on the sheets Drizzle 1/2 tablespoon olive oil on each and roast for 20 minutes until tender.
Meanwhile, sauté onion in 4-6 quart stockpot in 1 tablespoon olive oil until translucent.
When cauliflower and broccoli are finished roasting, take one sheet of the roasted broccoli and cauliflower and place in a blender with 2 cups of stock. Blend until smooth. Add the second sheet of roasted vegetables, blended vegetables, remaining 4 cups of stock, half and half, and thyme to the stock pot with cooked onions. Warm until heated through and adjust seasonings.
Nutrition Facts
One cup:106 calories, 6.2 g fat, 2.2 g saturated fat, 10.7 g carbohydrates, 3.7 g sugar, 4.5 g protein, 3.8 g fiber, 250 mg sodium, 2 Green, 2 Blue, 2 Purple WW SmartPts
Points values are calculated by Snack Girl and are provided for information only. See all Snack Girl Recipes