Roasted Cauliflower and Broccoli Soup: Perfect for Fall
This roasted cauliflower and broccoli soup will help you welcome the cooler temperatures. Who doesn't love a good soup?!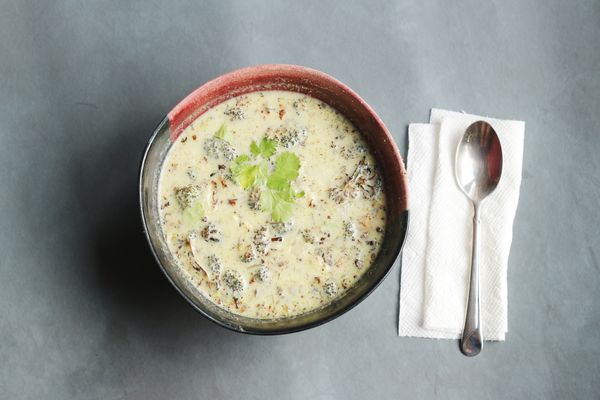 Cauliflower and broccoli have a deep flavor after roasting that they simple miss when you steam them. The high heat of the oven takes away the bitter taste that some people hate and makes these vegetables sweeter.
If I serve raw cauliflower and broccoli - everyone complains. If I roast those same vegetables - they disappear. They are totally different animals.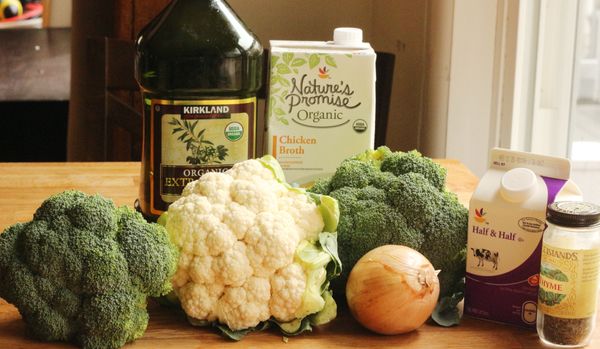 I have featured both
oven roasted cauliflower and roasted broccoli - and these are the precursors to this fantastic soup.
Put the vegetables on a rimmed baking sheet (the parchment paper is there to make it easy to pick up the vegetables and clean the sheet). You roast at 450F for 20 minutes.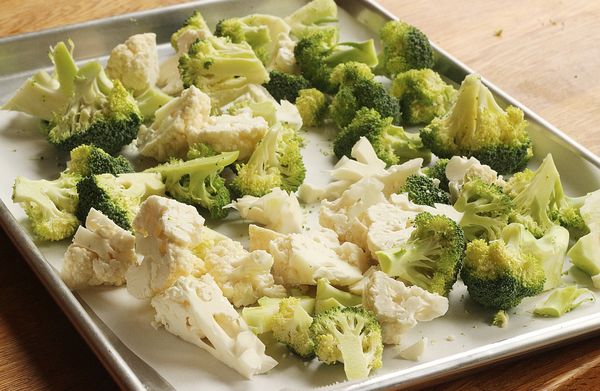 The roasting is the actual cooking of the soup in this recipe.
I puree 1/2 of the cauliflower and broccoli in a blender to make "cream" and add a little half and half to make the soup really creamy. This way you cut calories without noticing (my favorite way).
The half and half is a flavoring agent because people love "Cream of SOMETHING Soup". Can you blame them? This soup is so low in fat and calories that the cream is no big deal. Obviously, if you are eating beer cheese soup it is a whole other ball game.
You don't have to add the half and half if you want to turn this soup into a vegan one.
When you add the cream, it changes if it will freeze well. If you want to make a big batch for the freezer, leave out the cream until you heat it back up for consumption.
Feel free to substitute for the cream with soy milk or whatever kind of nut milk you have on hand.
Have you tried making roasted cauliflower and broccoli soup? How do you make it?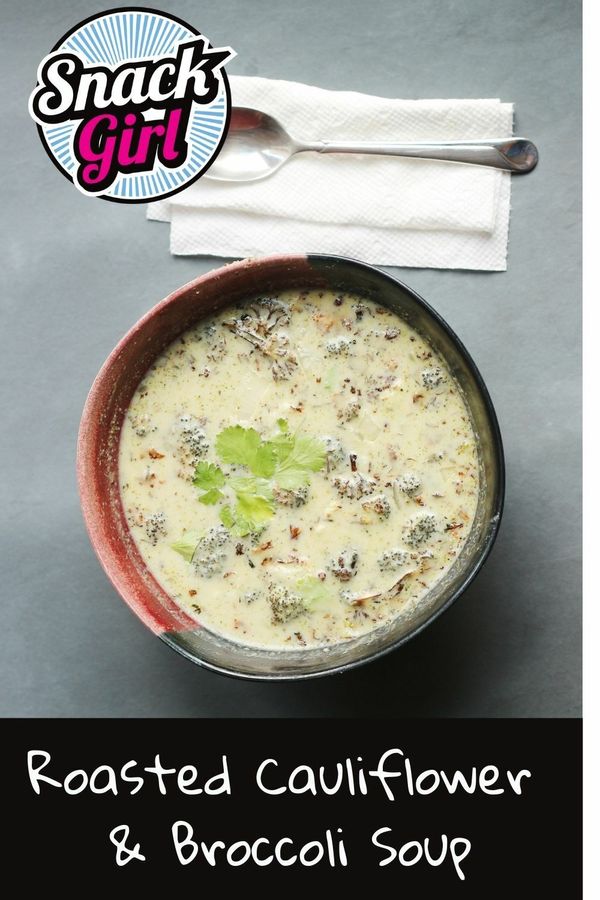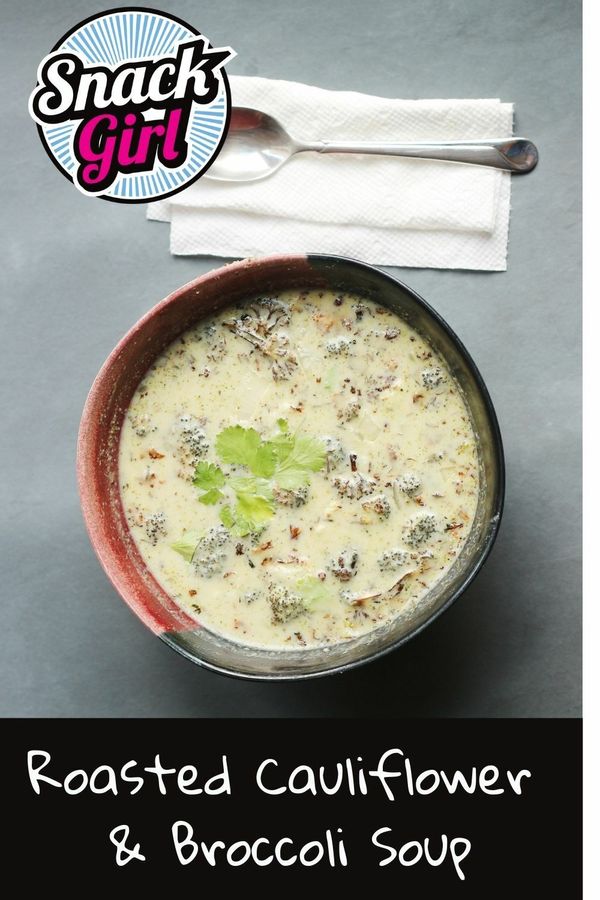 Roasted Cauliflower and Broccoli Soup Recipe
Makes 10 cups
Prep time: 10 min
Cook time: 30 min

Ingredients
1 large head cauliflower (about 1.5 pds), cored and cut into 1-inch florets
2 crowns of broccoli (about 1.5 pds), cut into 1-inch florets
2 tablespoons olive oil
1 onion, chopped
6 cups chicken or vegetable stock (low sodium)
1 cup half and half
1 teaspoon dried thyme

Instructions
Heat oven to 450 F. Line two rimmed baking sheets with parchment paper and put broccoli and cauliflower on the sheets Drizzle 1/2 tablespoon olive oil on each and roast for 20 minutes until tender.
Meanwhile, sauté onion in 4-6 quart stockpot in 1 tablespoon olive oil until translucent.
When cauliflower and broccoli are finished roasting, take one sheet of the roasted broccoli and cauliflower and place in a blender with 2 cups of stock. Blend until smooth. Add the second sheet of roasted vegetables, blended vegetables, remaining 4 cups of stock, half and half, and thyme to the stock pot with cooked onions. Warm until heated through and adjust seasonings.
Nutrition Facts
One cup:106 calories, 6.2 g fat, 2.2 g saturated fat, 10.7 g carbohydrates, 3.7 g sugar, 4.5 g protein, 3.8 g fiber, 250 mg sodium, 2 Green, 2 Blue, 2 Purple WW SmartPts
Points values are calculated by Snack Girl and are provided for information only. See all Snack Girl Recipes
Other posts you might like:
---

Oven roasted cauliflower is a staple for those of use who can tolerate cauliflower. I happen to love cauliflower but many of my readers do not.....
---

This recipe is one of the top on Snack Girl and I couldn't be prouder....
---
---
Get Free Email Updates! Yes please!
---