The Right Kind of Fast Food: Roasted Shrimp
Can you cook a delicious meal in five minutes? Well, I can almost do it (if my oven didn't take 10 minutes to heat up).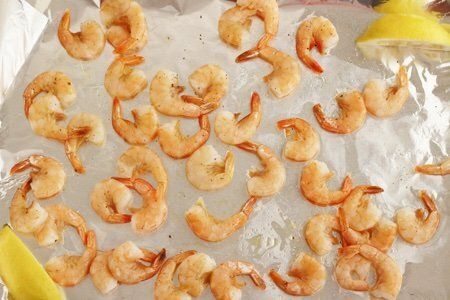 Roasted shrimp is low in calories (112 calories for four ounces) and a cinch to cook. These little buggers are nutritious too!
Four ounces of cooked shrimp serves up nearly half the DHA and EPA — omega-3 fats — you should be getting every day. Omega-3s reduce blood pressure and triglycerides (fats in the blood) and are one of the only nutrients that raise good HDL cholesterol.
Of course, shrimp are high in cholesterol but (as we have talked about with eggs) the amount of cholesterol in your food does not impact your overall cholesterol numbers.
The only deal with shrimp is that it can be hard to know which ones to buy. Two rules:
1. Always buy frozen shrimp. The ones that are at the fish counter were frozen and are now thawing in front of you. Unless you are buying them off the boat - stick to frozen.
2. Try to buy shrimp that has been harvested or farmed in such a way that doesn't ruin the environment.
The Monterey Bay Aquarium puts out a great website – Seafood Watch - and they now have an app for determining which seafood is best from an environmental perspective.
If you care about this sort of thing, you should check the website often because the rules change all the time. For example, I thought that wild Louisiana gulf shrimp were an obviously good choice but NOW they are not because the shrimpers are threatening the turtle population. ARGH!
I keep shrimp in my freezer and run them under cold water when I want to cook them. I buy medium sized shrimp so I don't have to worry about deveining (larger shrimp can have grit in their veins) and I don't peel them (because who has time for that).
I may be mistaken, but I believe they are more flavorful when cooked with the shells on. We can argue below!
I serve them with a slice of lemon and I find that peeling them makes me savor them all the more.
Do you eat shrimp? How do you cook them?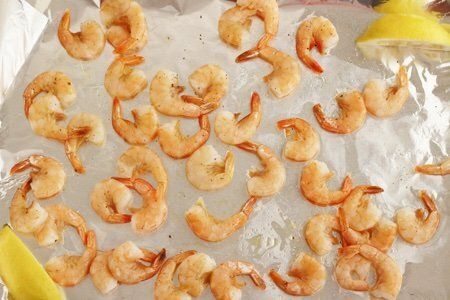 Roasted Shrimp Recipe
Makes 3, four-ounce servings
Ingredients
12 ounces medium sized raw shrimp, thawed
1 teaspoon olive oil
salt and pepper to taste
lemon slices (optional)

Instructions
Heat oven to 400 F. Line roasting pan with aluminum foil for easy clean-up. Put shrimp on pan and drizzle with olive oil. Salt and pepper them and cook for 5 minutes or until pink. Serve hot with lemon squeezed over them.
Nutrition Facts
For 4 ounces = 148 calories, 3.5 g fat, 0.8 g saturated fat, 1.7 g carbohydrates, 0 g sugar, 25.8 g protein, 0 g fiber, 277 mg sodium, 3 Points+
Points values are calculated by Snack Girl and are provided for information only. See all Snack Girl Recipes
Other posts you might like:
---

Snack Girl happens to love fish, but her son is a bit of a non-believer.....
---

How easy can you make getting dinner on the table? Can you make it faster than you can dial delivery?...
---
---
Get Free Email Updates! Yes please!
---