A Simple, Spectacular Snack With Sabra Hummus
November 5, 2012
Have you ever tried a Falafel sandwich? It usually comes in a pita with lettuce, tomatoes, onions, and a yummy sauce.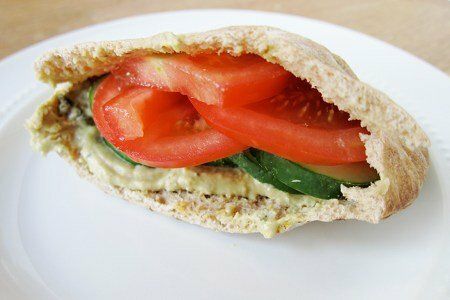 The Falafel is a deep fried ball of ground chickpeas and are kind of like a fritter. While easy to find on the streets of New York City, I doubt I would ever try to make one at home.
But, there is something so delicious about a Falafel sandwich so I set about to make a replacement without the fritter. I used Sabra Classic Hummus which can be found next to the salsa in your supermarket.
Hummus is made of chickpeas and tahini (sesame paste) and gives the same meaty heft to the sandwich that the Falafel would if I wasn't too lazy to make it.
Fortunately, I'm not too lazy to make this sandwich which is fast and delicious. I make this RIGHT BEFORE I eat it because it gets soggy very quickly.
I love using a small pita bread because it is only 80 calories of bread that wraps around the entire sandwich. Two pieces of whole wheat bread can run you into 200 calories before you add anything else.
Feel free to add your favorite vegetables to make it work for you. If I am out of cucumber and tomato, I would add lettuce, roasted vegetables, pickles, grated carrot, etc. to make it interesting.
Like Sabra on Facebook so you can get coupons, win prizes, and check out Chefs making over favorite recipes with hummus. There's all sorts of great ideas (hummus pizza, hummus nachos, hummus salad dressing.....yum!).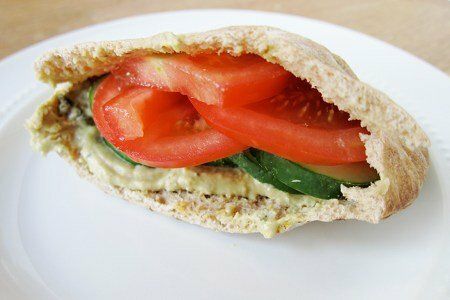 No Falafel Necessary Sandwich Recipe

(serves 1)

Ingredients
½ tomato, sliced
½ cucumber, sliced
2 tablespoons Sabra Classic Hummus
1 small whole wheat pita bread

Instructions
Slice top of pita bread off so you can open it like a small change purse. Spread on hummus and add tomato and cucumber. Enjoy!
Nutrition Facts
177 calories, 7.2 g fat, 0.8 g saturated fat, 23.0 g carbohydrates, 2.8 g sugar, 6.3 g protein, 4.5 g fiber, 253 mg sodium, 5 Points+
Points values are calculated by Snack Girl and are provided for information only. See all Snack Girl Recipes
Sponsored by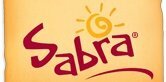 ---
Get Free Email Updates! Yes please!
---