The Easiest Way To Make Salad Part of Every Day
Snack Girl got herself a new salad spinner and I thought I would share the fun. Hey, a new kitchen gadget is something to brag about in my house.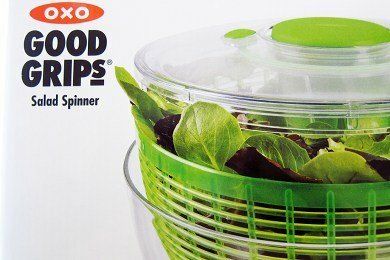 Maybe some of you buy bagged salad greens or just wash your salad in a colander. Have you tried a salad spinner? This takes the chore out of lettuce washing and will save you a lot of money over the long term if you are buying bags of salad.
Why wash your lettuce? I hate to tell you this but there could be some nasty creatures on your lettuce such as E. Coli. You see they grow lettuce with fertilizer - and a major component of fertilizer is @#$% AKA feces. You don't need to scrub lettuce - but it is a good idea to rinse it well and then dry it before eating.
The salad spinner allows you to rinse and then dry your lettuce in one go. The spin part uses centrifugal force to get the water off the lettuce. Yes, it is fun to drop some physics terms onto Snack Girl every once in a while so you don't forget I am a super geek.
Then, you can store your lettuce in the spinner OR do what I do - and put the lettuce in individual large bowl containers from Glad or any other round container with a lid. These containers are BPA free and can be found at Target or your grocery store. They allow you to pack a large volume of lettuce for bringing to lunch.
Do this once a week with a large head of lettuce and you have no excuses about eating salad. I have noticed the high price of buying a salad at lunch time ($7) and when the bacon cheeseburger is less expensive - it can be difficult to make the healthier choice.
My advice is don't set yourself up for the choice in the first place because you KNOW you are going to order the burger.
Romaine lettuce is my favorite because it stays fresher longer than some of the other softer lettuces. Due to its extremely low calorie content and high water volume, romaine lettuce is actually a very nutritious food. It as an excellent source of vitamin A (notably through its concentration of the pro-vitamin A carotenoid, beta-carotene), vitamin K, folate, and vitamin C.
That's right people, romaine lettuce isn't just water and fiber - you are getting some important nutrition from your salad.
Right before you walk out the door, add some yummy stuff to your salad. I have some mini-containers for dressing that I pour when I do the salad bowls. When I want to pack my lunch, I just grab stuff from around the fridge to put on the salad. Here are some ideas:
roasted vegetables
olives
canned chick peas or garbanzo beans
roasted chicken
raisins
sunflower seeds
sliced almonds
orange slices
steak
pizza
No, I am not kidding about the pizza. Just chop up some cold pizza and throw it on your lettuce for an impromptu pizza salad! (say you heard this idea here first :)
How do you make a salad part of every day?
---
$36.65 Buy on Amazon.com
As an Amazon Associate, I earn from qualifying purchases.
---
$14.99 ($5.00 / Count) Buy on Amazon.com
---
Other posts you might like:
---

Can you believe those colors? You know how they say to "eat the rainbow". Here is your chance!....
---

This is the season of watermelon. Supermarkets position these lovely creatures right at the front door so they hop into your cart! Really!...
---