Healthy Dinner in One Pan
How easy can you make getting dinner on the table? Can you make it faster than you can dial delivery?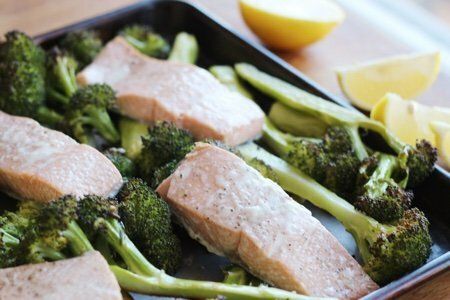 I ask this question because I used to love to dial for take-out. San Francisco, a town with lovely food, made it easy for my kitchen to remain clean and my wallet to be empty.
Now I live in a place where there aren't many options for take-out and I am forced to walk in the door from work and have dinner on the table in no time flat (on the nights it is MY night to cook).
My strategy after I walk in the door is now a habit on crazy nights:
Turn on the oven to 500 F
Pet dog, kiss kids (if they let me) and partner (he always lets me)
Get out roasting pan, cutting board, and get crackin'
The meal above is simple, healthy, and everyone in my family will eat it. I bought some salmon fillets and thawed them in the fridge overnight so they are ready to go.
You can make this recipe with your favorite roasted vegetable if you don't love broccoli such as kale, Bok Choy, Brussels sprouts, etc.
The best part is there is only one pan to clean and if you line it with aluminum foil then clean up is a SNAP. Take that pizza delivery guy!
What is your favorite fast meal?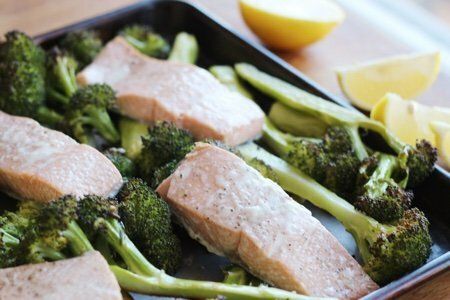 Roast Broccoli and Salmon Recipe
Makes 4 servings
Ingredients
2 pounds broccoli
2 tablespoons extra-virgin olive oil
salt and pepper (to taste)
4-4 ounce fillets of salmon
1 lemon, cut into wedges
Instructions
Preheat oven to 500F. Cover the bottom of a large rimmed baking sheet with aluminum foil. Place sheet in oven while oven heats up.
Cut crowns into 4 wedges. Place broccoli in large bowl and add olive oil, salt and pepper. Toss to combine. When oven is heated, place broccoli on baking sheet and roast for 8 minutes.
While broccoli is roasting, prepare salmon fillets by drying them and sprinkling on some salt and pepper.
Add the salmon on top of the broccoli after the initial 8 minutes of cooking, and roast for an additional 8 minutes until salmon is cooked through.
Remove from oven and squeeze a few lemon slices over the top. Serve immediately.
Nutrition Facts
One salmon fillet and ½ pound of broccoli is 287 calories, 14.8 g fat, 2.0 g saturated fat, 15.1 g carbohydrates, 3.9 g sugar, 28.4 g protein, 5.9 g fiber, 125 mg sodium, 6 Points+
Points values are calculated by Snack Girl and are provided for information only. See all Snack Girl Recipes
---
Get Free Email Updates! Yes please!
---