What Is High Fructose Corn Syrup Doing In My Salmon Burger?
Have you heard the warning about sugar hiding in your food? People are usually surprised when they find high fructose corn syrup in bread and ketchup.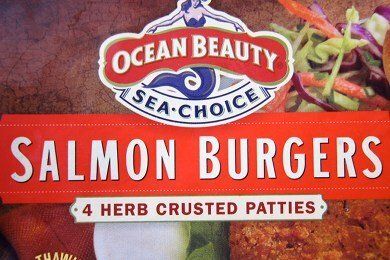 I received an e-mail from an avid label reader about salmon burgers:
Could you give me your opinion on frozen salmon burgers? Trader Joe's has one that looks pretty good but then in my regular grocery store they had frozen salmon burgers that had listed on the outside a " Women's Health Magazine Award winning product" but in the ingredients it listed salmon along with corn syrup; high fructose corn syrup and more of the same nonsense.
So I'd love to know your thoughts? Are there any frozen salmon burgers you recommend?
Sheesh! You would think that you could avoid corn syrup when you are eating salmon. I purchased the above box of salmon burgers ($6.50) and it featured "Wild Alaska Sustainable Seafood" - which made me happy.
I LIKE salmon but I like it even more when it is wild caught (meaning isn't farmed) and it is fished in a sustainable way. There are environmental problems involved with salmon farming and I like supporting the fishing industry. I love "sustainable" because I want my kids to have salmon when they are adults.
But what about the high fructose corn syrup (HFCS)? Salmon, unlike Coca-Cola, should be corn syrup free. The manufacturers of this product "Ocean Beauty" used HFCS to sweeten the breading that surrounds the salmon.
Breading isn't really necessary to make a salmon burger, but it does provide a nice CRUNCH to the outside which is tasty. The first thing I did was evaluate how much sugar was added to the burger: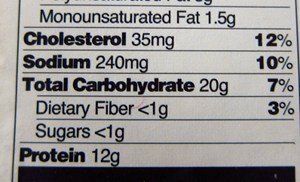 There is less than one gram per serving - which is a very small amount. The nutrition facts for this salmon burger are:
200 calories, 8 g fat, 20 g carbohydrates, 12 g protein, 0 g fiber, 240 mg sodium, 5 Points+
So, basically, it is just a small amount of sugar added for flavor - which I am not against. Would I like my salmon burger without salt, herbs, and sugar? Probably, but those small additions do not make this burger unhealthy.
I would buy these and use them to replace the more fatty hamburger (made with beef). You get more of the "good fat" here and you get to support Alaska fisheries.
My advice is to buy the salmon burgers you can afford - and if you can afford wild, sustainable, with a wee bit of sugar added - go for it!
---
Other posts you might like:
---

Are you trying to eat seasonal foods? Put down those hard tomatoes and grab some cabbage....
---

Has anyone else noticed the size of your bagel getting bigger in the last 20 years? And the amount of cream cheese spread on them seems to be growing too!...
---