The Book You Need To Read If You Want To Lose Weight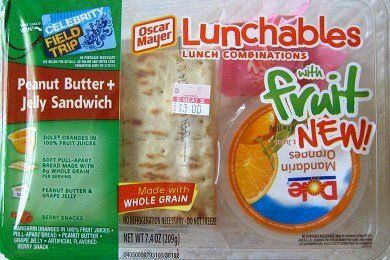 Snack Girl has read only a few books in her life that have made a lasting impact on what she eats.
For example, Michael Pollan's "Omnivore's Dilemma" was one of those books that got me writing about food in the first place. Back in October, I received an e-mail from Michael Moss of the New York Times and thought it was a hoax. But, he was checking a source, Snack Girl, regarding a quote on Lunchables.
That's right, people. My critique of Lunchables made it into this amazing book, "Salt, Sugar, Fat: How The Food Giants Hooked Us", so of course, I am a bit biased toward it.
But, even if he hadn't quoted me, I would love and learn from this book. In it he explains how the big food companies (Kraft, Coca-Cola, Kelloggs, Frito-Lay, etc.) have systematically introduced and marketed more and more sugar, salt, and fat, all the while knowing the health concerns.
This book was banned from my bedroom because my husband said it made me too angry to go to sleep. This book will change how you see the products in the grocery store and huff and puff a bit if you have ever had a processed food habit.
Toward the end of his meticulously researched analysis of the tactics of the processed food industry, Michael Moss states:
If nothing else, this book is intended as a wake-up call to the issue and tactics at play in the food industry, to the fact that we are not helpless in facing them down.
We have choices, particularly when it comes to grocery shopping, and I saw this book, on its most basic level, as a tool for defending ourselves when we walk through those doors.
I could not agree more with the premise that we need to defend ourselves from the marketing and products that are making us unhealthy. You make choices every day and you can simply choose not support the industry that brings us this junk food.
I spend a lot of my time writing about specific products to educate my readers about what to look out for. I do this because the marketing keeps coming at us and convinces us (many times) that products are better than they are.
Moss's article, The Extraordinary Science of Addictive Junk Food is an introduction to his book and well worth reading if you don't have time for the whole book.
Have any of you read this book? How do you deal with the power and pull of processed food?
---
$28.00 $18.36 Buy on Amazon.com
As an Amazon Associate, I earn from qualifying purchases.
---
Other posts you might like:
---

How many of you have been to the Mediterranean? If you lived there you might not have to worry about heart disease....
---

One of the tenets of losing weight is that you must reduce your calorie intake. Eat less, exercise more....
---