Marinated Shrimp, Avocado, and Celery Stuffed Tomatoes with New SeaPak Lighthouse Selections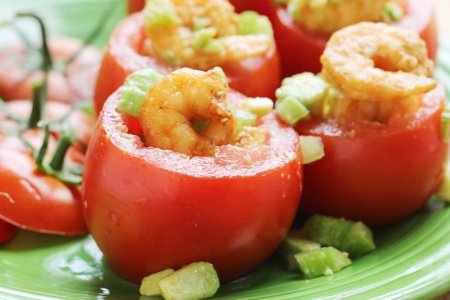 All I want to eat right now is cold food. Fortunately, this is the time of year for salads.
What is better in a salad than marinated shrimp? SeaPak has come out with a line of gluten-free seafood products that they call SeaPak Lighthouse Selections. These include Creamy Garlic Shrimp, Marinated Shrimp, Shrimp & Veggie Griller, and Salmon Burgers. The shrimp is certified sustainable and farm-raised.
These are a great find for summer because they are ready for the grill. I hate heating up my kitchen when it is 92 degrees outside.
In the recipe below, I do use my oven but it is only for 15 minutes and I am chopping and coring during that time. I don't want to run out to the grill and then have to run back inside to get my salad finished.
The marinated shrimp is only 120 calories per serving (including 20 grams of protein) and provides a guilt-free and flavorful addition to all the wonderful fresh fruits and vegetables you can find this time of year.
My Hannaford carries the Lighthouse Selections in the frozen section along with an array of stunning summer produce. This recipe features fresh tomatoes, which are not only affordable this time of year - they taste so good! I don't usually buy fresh tomatoes unless it is summer.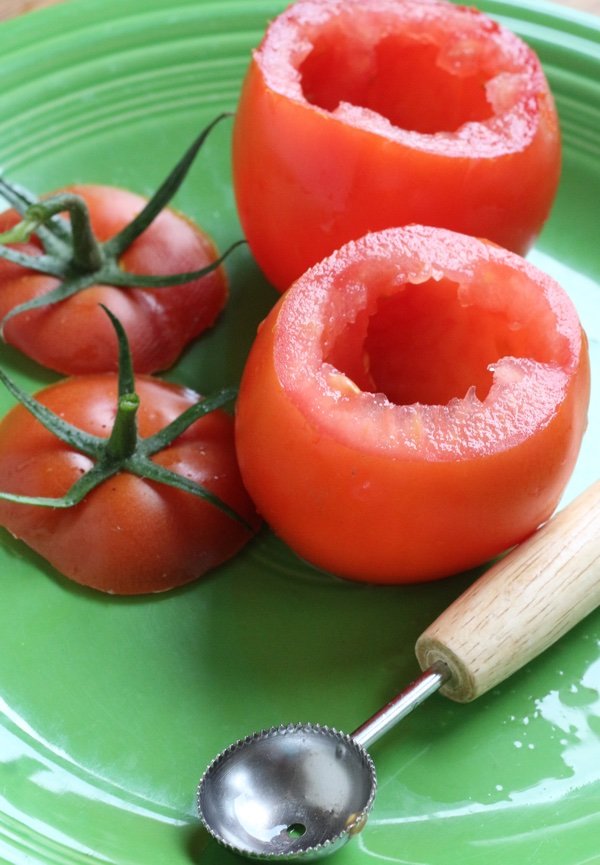 It is easy to core tomatoes if you have a melon baller. Do you see how there is a jagged edge? It makes simple work of the tomato as you pull out its guts. If you don't have a melon baller (I didn't for years) use a teaspoon. This is an easy way to make a salad more beautiful and you end up eating most of a tomato.
If this step is too onerous for you, toss in some halved grape tomatoes and mix instead of stuffing the tomatoes.
I love my local Hannaford because it puts out a recipe-packed magazine called "Fresh" that includes many seasonal dishes. The summer edition included an aqua fresca with fresh watermelon and coconut water. Got to try!
Check out the SeaPak Lighthouse Selections website for a $2.00 off coupon for any one Seapak Lighthouse Selection (8 ounces or larger).
I can buy the marinated shrimp at Hannaford or use the SeaPak Product Locator using your Zipcode or town to find a store near you.
For more information about SeaPak, visit their Facebook, Instagram or Pinterest pages.
This is a sponsored conversation written by me on behalf of SeaPak. The opinions and text are all mine.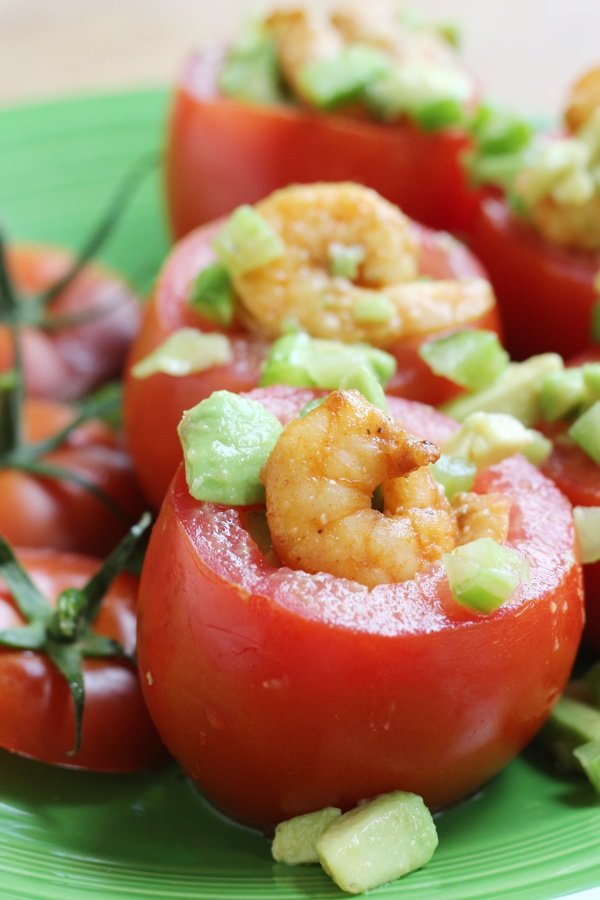 print
Pin It
Marinated Shrimp, Avocado, and Celery Stuffed Tomatoes
Makes 10 medium tomatoes
1 12 ounce package SeaPak Marinated Shrimp
10 ripe tomatoes, medium sized
2 stalks celery, minced
2 medium avocados, peeled and chopped
½ lime, juiced
salt to taste

Preheat oven to 375°F. Arrange full bag of frozen shrimp in a single layer on a nonstick baking sheet sprayed with oil. Bake for 14-15 minutes, turning shrimp halfway, or until fully cooked.
While the shrimp are baking, slice a small amount of the bottom of each tomato to ensure it can stand upright. Slice off the top and core out the center with a melon baller or teaspoon leaving the outside of the tomato intact. Put the tomato insides in a storage container and reserve for making sauce or another use.
Mix celery, avocados, lime juice, and cooked shrimp in a medium bowl. Adjust for salt and spoon into tomatoes. Enjoy immediately or refrigerate for one day.
One stuffed tomato is 141 calories, 9 g fat, 1.7 g saturated fat, 9 g carbohydrates, 3.5 g sugar, 8 g protein, 4.2 g fiber, 174 mg sodium, 3 SmartPts
Points values are calculated by Snack Girl and are provided for information only. See all Snack Girl Recipes
---
Get Free Email Updates! Yes please!
---