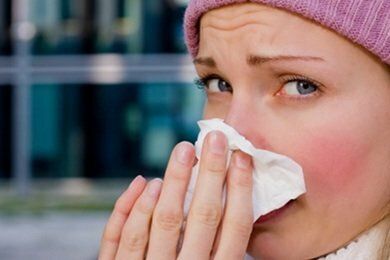 Sweet Potato-Vegetable Lasagna Recipe

reprinted with permission from "The Secrets of People Who Never Get Sick" by Gene Stone.
(serves 10-12)

Ingredients
1 large onion, chopped
1 small head garlic, all cloves chopped or pressed
8 ounces mushrooms, sliced
1 head broccoli, chopped, without stems
2 large carrots, chopped
2 red bell peppers, seeded and chopped
1 can corn (15 ounces), rinsed and drained
1 package firm tofu (16 ounces)
½ teaspoon cayenne pepper
1 teaspoon oregano, preferably fresh
1 teaspoon basil, preferably fresh
1 teaspoon rosemary, preferably fresh
2 boxes (8 ounces each) whole grain lasagna noodles, uncooked
2 jars (25 ounces each) pasta sauce
1 pound frozen spinach, thawed and drained
2 sweet potatoes, cooked and mashed
6 Roma tomatoes, sliced thin
1 cup raw cashews, ground

Instructions
Preheat oven to 400°F.
Sauté the onions and garlic on high heat for 3 minutes in a wok or nonstick pan. Add the mushrooms and cook until the onions are limp and the mushrooms release their liquid. Remove them to a large bowl using a slotted spoon. Reserve the mushroom liquid in the pan. Sauté the broccoli and carrots for 5 minutes, and add them to the mushroom bowl. Sauté the peppers and corn until just beginning to soften, and add them to the vegetable bowl. Drain the tofu by wrapping it in paper towels. Break it up directly in the towels and combine it with the vegetable mixture. Add the cayenne and herbs to the vegetable bowl and stir to combine.
To assemble: Cover the bottom of a 9 x 13-inch casserole with a layer of sauce. Add a layer of noodles. Cover the noodles with sauce. This way the noodles cook in the oven rather than being boiled first, saving time and energy. Spread the vegetable mixture over the sauced noodles. Cover with another layer of noodles and another dressing of sauce. Add the spinach to the second layer of sauced noodles. Cover the spinach with the mashed potatoes. Add another layer of sauce, the final layer of noodles, and a last topping of sauce. Cover the lasagna with the thinly sliced Roma tomatoes, then cover the dish with foil and bake in the oven for 45 minutes. Remove the foil, sprinkle the top with cashews, and return the lasagna to the oven for 15 minutes. Remove it from the oven and let it sit for 15 minutes before serving.
Nutrition Facts
for one serving = 447 calories, 9.5 g fat, 77 g carbohydrates, 17.5 g protein, 7.9 g fiber, 325 mg sodium, 12 Points+
Points values are calculated by Snack Girl and are provided for information only. See all Snack Girl Recipes