Share a Great Resource with a Friend
These two beautiful women are probably looking at a funny cat video.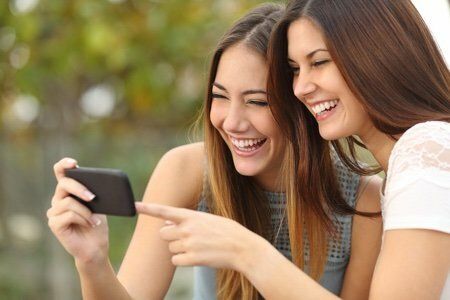 Honestly, I wish I was in the business of making cat videos because they are HOT. Instead, I am here trying to promote healthy food which is fun but isn't as compelling as a cat taunting a dog while wearing a sombrero.
I hate asking anyone for favors – especially people that I don't know –but I need a favor. If you love Snack Girl, I need you to sign up, like it, Pin it, and share it with your friends who you think will like it too.
I promise to continue to come up with easy, healthy recipes to support your healthy journey (and attempt to make you smile not unlike cat videos).
I am expanding my reach and paying attention to more of my social media channels in order to give you unfettered access to the brilliant (or almost brilliant) ideas of Snack Girl
Here are your choices and - yes- you can choose all of them:
Please take a moment and share Snack Girl with a friend.