A New England Roll Without the Lobstah
I went on a trip to Cape Cod and couldn't believe the number of signs for lobster rolls.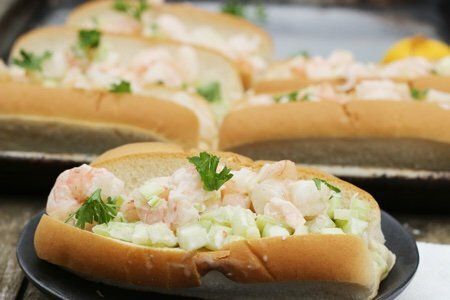 At restaurants, convenience stores, and GAS STATIONS (not kidding) you could find a sign that said "Voted Best Lobster Roll on Cape Cod - $8.99".
Hmmmm. I didn't purchase any lobster rolls because I am a fan of lobster au natural (AKA right out of the shell) and I fear food poisoning from undercooked seafood or mayonnaise left out in the sun.
Lobster rolls are made with lobster, mayo (or butter), and assorted other ingredients and served in a New England hot dog bun which has a slit on the top. Don't try to find these buns anywhere else in the country.
I created this "shrimp roll" because I don't believe any of you have the time or inclination to buy, steam, and pry the meat out of a lobster. You can buy cooked shrimp either frozen or in the seafood counter and use this for the recipe. I poached my shrimp because I misread the label on the package (bought raw, unpeeled shrimp) and it was a bit of a chore.
If you decide to cook the shrimp, get about 1 inch of water and 1 teaspoon of salt into a rolling boil and then add thawed shrimp and cook for 4-5 minutes until bright pink. The time cooking is going to depend on the size of the shrimp.
I made this without mayonnaise because a friend of mine was coming over for lunch (and she hates mayo). It tasted great without it!! But, I do happen to love it with it, too.
Have you ever had a lobster or shrimp roll?
Shrimp Roll Recipe
Makes 4 servings
Ingredients
1 pound cooked shrimp, chopped
3 scallions, minced including green part
3 stalks celery, minced
½ lemon, juiced
¼ teaspoon seafood seasoning (such as Old Bay)
1 tablespoon mayonnaise
1 teaspoon ketchup
hot dog buns (optional)
parsley, chopped (optional)
Instructions
Mix shrimp, scallions, and celery in a medium bowl. Add lemon juice, seafood seasoning, mayonnaise, and ketchup and mix until blended. Serve in hot dog buns, on a lettuce leaf, or plain and add chopped parsley for a garnish.
Nutrition Facts
With mayo and ketchup (no bun): 159 calories, 3.3 g fat, 0.9 g saturated fat, 4.4 g carbohydrates, 1.2 g sugar, 26.3 g protein, 0.5 g fiber, 384 mg sodium, 4 Points+
Without mayo and ketchup (no bun): 143 calories, 2.0 g fat, 0.7 g saturated fat, 3.2 g carbohydrates, 0.7 g sugar, 26.2 g protein, 0.5 g fiber, 343 mg sodium, 3 Points+
Points values are calculated by Snack Girl and are provided for information only. See all Snack Girl Recipes
Other posts you might like:
---

Can you cook a delicious meal in five minutes? Well, I can almost do it (if my oven didn't take 10 minutes to heat up)....
---

My grill is fired up and I have started poking things with sticks....
---
---
Get Free Email Updates! Yes please!
---