Better Late Than Never Gazpacho
Snack Girl is sure that all the other food bloggers started writing about gazpacho in July when the ripe tomatoes started rolling in.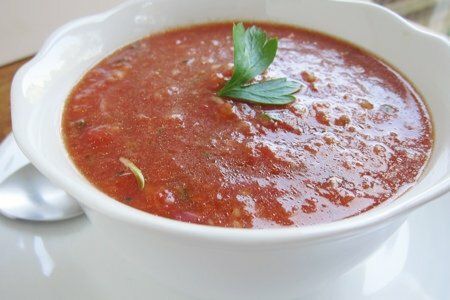 I kept thinking that I needed to feature this wonderful and SIMPLE vegetables soup, but I never found the time. Luckily, we are mid-September and the tomatoes are still here.
At my farm stand on my street (because I live in the middle of nowhere), I was able to find almost all the ingredients for this soup. Green pepper, cucumber, tomatoes, red onion, garlic, and some tomato juice are all you need for a basic version.
I have heard that in Spain, they eat some of this soup before lunch as a starter. How smart is that? Fill up on lovely vegetables and then eat. We should all give that a try. Would you eat less? Maybe. You would definitely eat healthy.
Many of you have asked me about juicing. I don't juice because I can't afford a juicer. This soup is like juicing. You use your food processor to chop up the vegetables and they get very fine and then you can slurp them up.
Keep this soup in your fridge for days and let the flavors steep. It gets really good about the third day.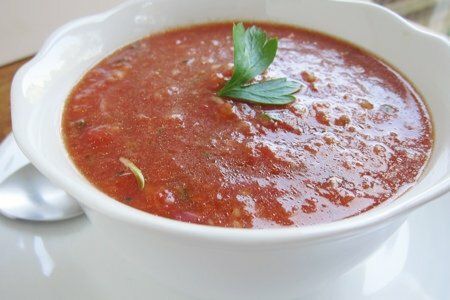 Gazpacho Recipe

Makes 8 cups, one per serving

Ingredients
2 cups tomato juice
¼ cup cider vinegar
2 tablespoons olive oil

1 medium cucumber, peeled
1 green or red bell pepper, cored and seeded
1 ½ pounds fresh tomatoes
½ small red onion, peeled
3 garlic cloves, peeled

Instructions
In a large bowl combine the tomato juice, vinegar, and olive oil. Cut the cucumber, pepper, tomatoes, and onion into large chunks. In your food processor, chop the cucumber until minced and put in large bowl. Repeat with pepper, tomatoes, onion, and garlic dumping the food processor into the bowl after each ingredient.
Stir the mixture and adjust seasonings by adding salt, pepper, hot sauce, Worcestershire, and lemon or lime juice. Refrigerate until cold and serve.
Nutrition Facts
For one cup = 71 calories, 3.8 g fat, 9.0 g carbohydrates, 5.2 g sugar, 1.7 g protein, 1.9 g fiber, 169 mg sodium, 2 Points+
Points values are calculated by Snack Girl and are provided for information only. See all Snack Girl Recipes
Other posts you might like:
---

Snack Girl has a love affair with tomatoes. Sorry, Tom Cruise, I lust after a summer tomato....
---

Can you believe those colors? You know how they say to "eat the rainbow". Here is your chance!....
---
---
Get Free Email Updates! Yes please!
---