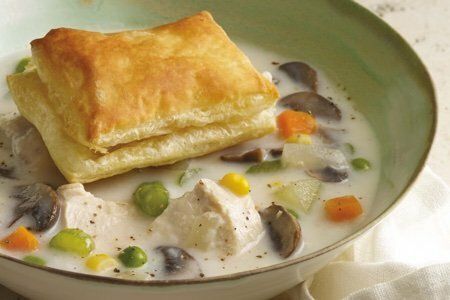 Chicken Pot Pie Soup Recipe
Reprinted from THE SKINNYTASTE COOKBOOK Copyright © 2014 by Gina Homolka. Published by Clarkson Potter, an imprint of Penguin Random House LLC.
Serves 6, Gluten-Free
Ingredients
1/4 cup unbleached all-purpose flour (or 2 tablespoons cornstarch for gluten-free)
4 cups fat-free milk
1 1/4 pounds boneless, skinless chicken breasts
1 (10-ounce) package frozen classic mixed vegetables (peas, carrots, green beans, corn)
1 large celery stalk, chopped
1/2 medium onion, chopped
8 ounces sliced cremini mushrooms
2 tablespoons chicken Better Than Bouillon*
Pinch of dried thyme
Freshly cracked black pepper
2 medium Yukon Gold potatoes, peeled and diced
Kosher salt, if needed
Instructions
* Read the label to be sure that Better Than Bouillon is gluten-free.
In a small bowl, make a slurry by whisking together 1⁄2 cup cold water and the flour or cornstarch if making this gluten-free.
 Set aside.
In a large pot, combine 1 1/2 cups water and the milk and slowly bring to a boil over medium-low heat. Add the chicken, frozen vegetables, celery, onion, mushrooms, bouillon, thyme, and black pepper to taste and return to a boil. Partially cover, reduce the heat to low, and simmer 15 minutes. Remove the chicken and set it aside. Continue to cook the soup until the vegetables are soft, about 5 more minutes. Add the potatoes and cook until soft, about 5 minutes.
Meanwhile, chop or shred the chicken into small pieces. Add the chicken to the soup, and slowly stir in the slurry. Cook until the soup thickens, 2 to 3 minutes. Adjust salt and black pepper to taste and serve.
Nutrition Facts
Each 1 1/2 cup serving without crouton is 269 calories, 3.5 g fat, 0.5 g saturated fat, 32.0 g carbohydrates, 12 g sugar, 30 g protein, 4.0 g fiber, 963 mg sodium, 7 Points+
Points values are calculated by Snack Girl and are provided for information only. See all Snack Girl Recipes