The Awesome Skinnytaste Cookbook
You are looking at a beautiful photo of Chicken Pot Pie Soup – and, yes, you are going to want to make it.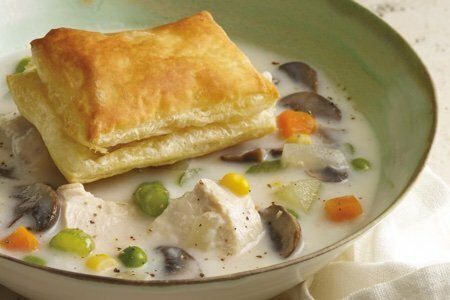 The best part is – Gina Homolka of Skinnytaste created the recipe so you know it is going to be tasty and lower in calories than an actual chicken pot pie.
I am a big fan of Gina's and I had the opportunity to meet her at a blogger conference. She was holding a Cosmo and was friendly, warm and did me the favor of featuring a Snack Girl recipe on her site. There are some beautiful photos of Gina in the book (but she is prettier in person – not kidding).
Her book extends the excellence of Skinnytaste – beautiful photos, wonderful recipes, with 100 recipes you can't get on her site.
As is her style, everything is there to make a recipe accessible. She includes:
Nutrition information
Gluten-Free and Vegetarian Recipes
Quick and Slow Cooker
Freezer Friendly
Suggestions for sides, etc. to make full meals
The chicken pot pie soup caught my eye because I love chicken pot pie and it was so easy to make.
I also can't wait to try the Mahi Mahi Fish Tacos with Spicy Avocado Cream, Asian Peanut Noodles with Chicken, and the Buffalo Chicken Salad. Yum!!!
If you want to make food that everyone will eat and love - and not realize how healthy it is - here is your book.
Have you taken a look at The Skinnytaste Cookbook? What do you think?
Photo credit: Penny De Los Santos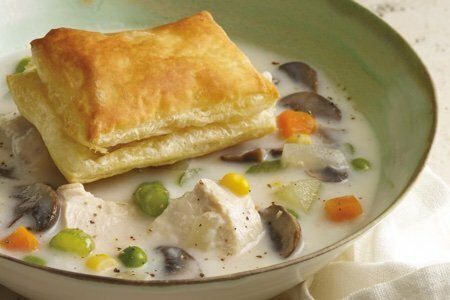 Chicken Pot Pie Soup Recipe
Reprinted from THE SKINNYTASTE COOKBOOK Copyright © 2014 by Gina Homolka. Published by Clarkson Potter, an imprint of Penguin Random House LLC.
Serves 6, Gluten-Free
Ingredients
1/4 cup unbleached all-purpose flour (or 2 tablespoons cornstarch for gluten-free)
4 cups fat-free milk
1 1/4 pounds boneless, skinless chicken breasts
1 (10-ounce) package frozen classic mixed vegetables (peas, carrots, green beans, corn)
1 large celery stalk, chopped
1/2 medium onion, chopped
8 ounces sliced cremini mushrooms
2 tablespoons chicken Better Than Bouillon*
Pinch of dried thyme
Freshly cracked black pepper
2 medium Yukon Gold potatoes, peeled and diced
Kosher salt, if needed
Instructions
* Read the label to be sure that Better Than Bouillon is gluten-free.
In a small bowl, make a slurry by whisking together 1⁄2 cup cold water and the flour or cornstarch if making this gluten-free.
 Set aside.
In a large pot, combine 1 1/2 cups water and the milk and slowly bring to a boil over medium-low heat. Add the chicken, frozen vegetables, celery, onion, mushrooms, bouillon, thyme, and black pepper to taste and return to a boil. Partially cover, reduce the heat to low, and simmer 15 minutes. Remove the chicken and set it aside. Continue to cook the soup until the vegetables are soft, about 5 more minutes. Add the potatoes and cook until soft, about 5 minutes.
Meanwhile, chop or shred the chicken into small pieces. Add the chicken to the soup, and slowly stir in the slurry. Cook until the soup thickens, 2 to 3 minutes. Adjust salt and black pepper to taste and serve.
Nutrition Facts
Each 1 1/2 cup serving without crouton is 269 calories, 3.5 g fat, 0.5 g saturated fat, 32.0 g carbohydrates, 12 g sugar, 30 g protein, 4.0 g fiber, 963 mg sodium, 7 Points+
Points values are calculated by Snack Girl and are provided for information only. See all Snack Girl Recipes
---
$32.50 $18.92 Buy on Amazon.com
As an Amazon Associate, I earn from qualifying purchases.
---
---
Get Free Email Updates! Yes please!
---