Sliced Turkey Breast: Which Brand Should You Buy?
Sliced turkey breast shouldn't be hard to buy. But, the choices are many. I am frequently amazed when I stand in front of product at the supermarket how many different items there are for purchase.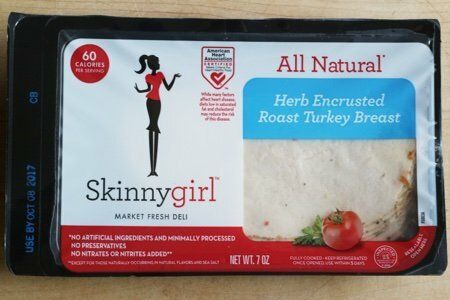 When I have it together, I make a slow cooker turkey breast and freeze it in chunks for later consumption.
But, most of the time I don't have it together so I buy sliced turkey breast. It is a great choice for a lean protein and I like it for a quick snack or sandwich.
I found Skinnygirl Herb Encrusted Turkey Breast (photo above) and thought I would give it a try. I have seen the Skinnygirl wines but never turkey. Do you think that Skinnygirl intends them to go together?
What I liked immediately is that it didn't have any nitrates or nitrites added to the turkey. I think it is best to avoid nitrites in meat as they have been linked with certain cancers. Why risk it if you don't have to?
Here is the nutritional information for 3 slices (57 grams):

60 calories, 1 g fat, 0.0 g saturated fat, 0 g carbohydrates, 0 g sugar, 12 g protein, 0 g fiber, 420 mg sodium, 1 SmartPts
I decided to buy Oscar Mayer Low Sodium Smoked Turkey Breast as a comparison. This brand has sodium nitrite added but it is low sodium. Hint: always buy low sodium if you can find it because it tastes better (also it is better for you).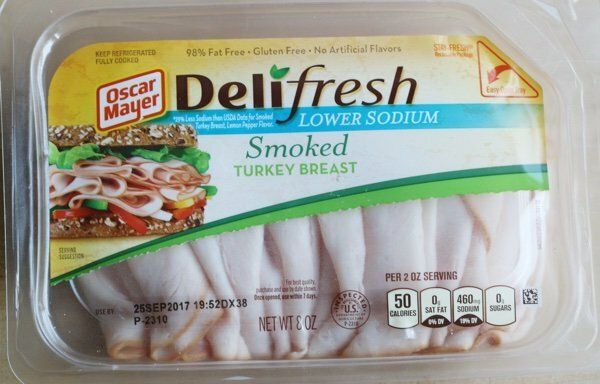 This cost about the same as Skinnygirl but has fewer calories! How strange.
Here are the nutrition facts for 56 grams (almost the same as Skinnygirl):

50 calories, 1.5 g fat, 0.0 g saturated fat, 2.0 g carbohydrates, 0 g sugar, 9 g protein, 4.0 g fiber, 460 mg sodium, 1 SmartPt
I don't know if they calculated it differently. They have almost the same ingredients – turkey breast and a few spices – so it is hard for me to understand how they could be different.
Finally, I decided to take a look at Tofurky. I used to think tofurky was some sort of joke – hahahah – tofuturkey!! But, it is a real product and one that I had never tried before. It is not sold next to the turkey but you can find it next to the tofu.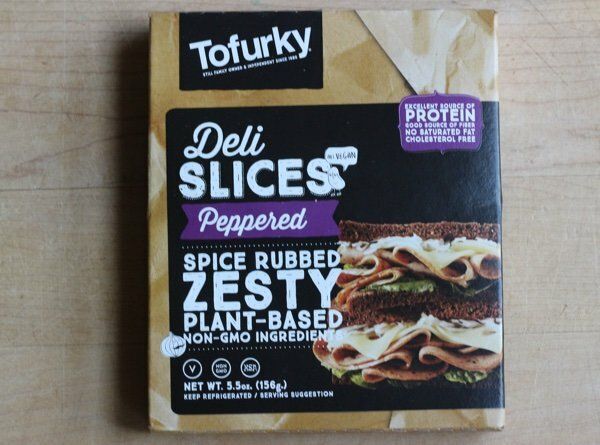 It is expensive. This box set me back $5.50 or and it only has 5 ounces. I decided to buy "peppered" because I happen to like pepper.
Check this out: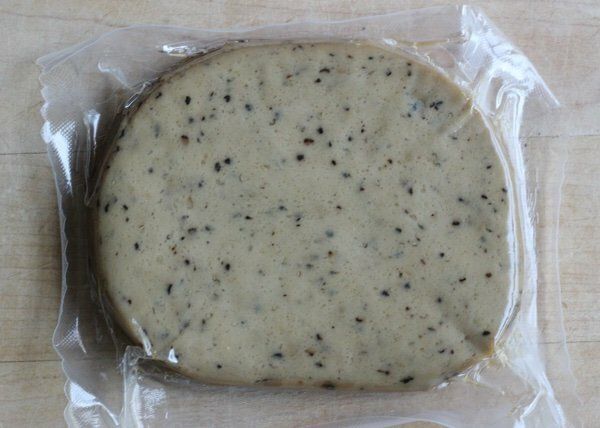 Does this look like turkey to you? Tofurkey is made with vital wheat gluten and tofu so it is not gluten-free. It is nitrite free (duh) and had plenty of pepper added to it.
Here are the nutrition facts for 52 grams (or 5 slices):

100 calories, 3 g fat, 0.0 g saturated fat, 6 g carbohydrates, 1 g sugar, 13 g protein, 3 g fiber, 300 mg sodium, 2 SmartPts
The Tofurky has the most calories of the three. Does that surprise you? You would think that tofu would have fewer calories than turkey but I guess that the way they make the product means that it has more – almost twice as much!
I was also surprised that this product had more sodium than the actual turkey. I don't know very much about fake meats such as tofurky but I would have expected this to be a much healthier option. I think it is probably about the same as turkey breast in terms of relative health.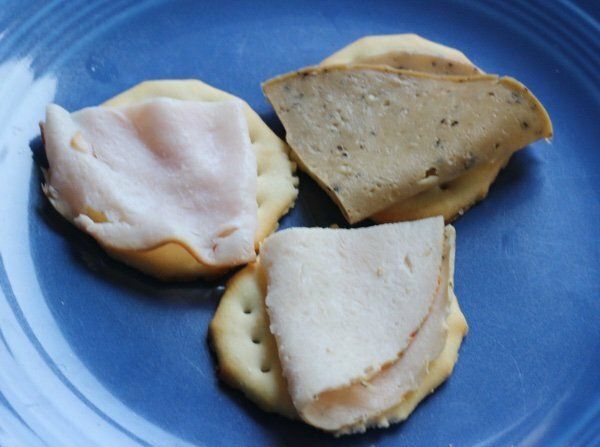 What about taste? I couldn't really do a blind taste test (unless I was actually blind) because the products look so very different. The slightly pink one is Oscar Mayer and it is that color because they used nitrates and preservatives.
In terms of taste:
1. Oscar Mayer – the smokiness was quite good as was the texture
2. Skinnygirl – this was pretty bland but would be good with condiments such as avocado
3. Tofurky – I have no idea if this is supposed to taste like turkey but it doesn't come close. I'm not sure what it tastes like – salty rubber? I think real turkey is much better

If you don't eat heaps of processed meats (bacon, pepperoni, salami, ham, hot dogs), I don't think the nitrites are a big deal in the Oscar Mayer turkey. I would buy it for its excellent flavor and not worry about it.
Do you buy turkey breast? What is your favorite brand?
---
Other posts you might like:
---

A few weeks ago, I roasted turkey breast and found out that I had done it all wrong.....
---