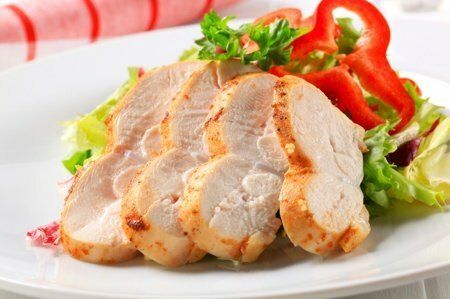 Roast Turkey Breast Recipe
Makes approximately 7 pounds of lunch meat
Ingredients
1-8 pound frozen turkey breast - bone in
2 tablespoons softened butter
salt and pepper
Instructions
Thaw the turkey breast in the refrigerator. It may take two days to thaw completely.
Heat oven to 325 F.
Take the turkey out of its packaging and rinse it and dry with paper towers. Place breast in a casserole dish or roasting pan and rub with butter. Salt and pepper liberally.
Roast in oven for 1.5 – 2.5 hours. Check with a meat thermometer for when the breast meat reaches 160 F. You should check often so it doesn't over cook (dry turkey is bad news). Take the turkey out of the oven and let rest for 15 minutes. It will reach 170 F on its own.
Slice the turkey using serrated knife, moving back and forth fairly quickly to ensure a nice slice. At this point you can slice the entire turkey and package the meat in freezer bags for future lunches.
Nutrition Facts
Four ounces (without skin) is 118 calories, 1.8 g fat, 0.5 g saturated fat, 4.7 g carbohydrates, 4.0 g sugar, 20.0 g protein, 0.6 g fiber, 55 mg sodium, 3 Points+
Points values are calculated by Snack Girl and are provided for information only. See all Snack Girl Recipes