Stop Buying Sliced Turkey Breast: DIY Turkey
My last visit to the supermarket revealed that the big bird is back in town.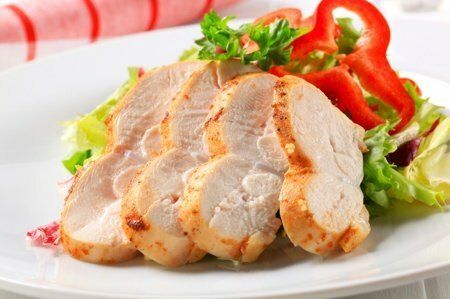 My husband, a native of Australia, loves turkey. He never had it growing up and now he can't get enough. He thinks Thanksgiving is the best American holiday and has roasted our turkey for years now.
I take a more practical approach because I love turkey sandwiches. You can save a lot of money by roasting your turkey breast and slicing it for sandwiches yourself. Not only is it less expensive but it tastes much better.
Which would you choose? Molded, salted, turkey breast stored I a refrigerated case for ???? or freshly roasted bird. Give me the bird please!
This takes some planning and some work but the results are worth it. Why?
You get many meals out of an eight pound turkey breast.
The sodium in your home-cooked version will be much less than a deli brand. Some brands have as much as 1151 grams of sodium for four ounces.
Turkey breast can be frozen (and it still tastes great).
Also the nutritional facts on four ounces of turkey breast (with skin removed) are excellent:
118 calories, 1.8 g fat, 0.5 g saturated fat, 4.7 g carbohydrates, 4.0 g sugar, 20.0 g protein, 0.6 g fiber, 55 mg sodium, 3 Points+
Low in fat, lots of protein, and it tastes good!
Once you get the hang of roasting turkey breast yourself, you will wonder why you didn't do it before. My problem is that they only sell turkey breasts for about half the year so I have to remember to buy a few in season and freeze them (but I forget).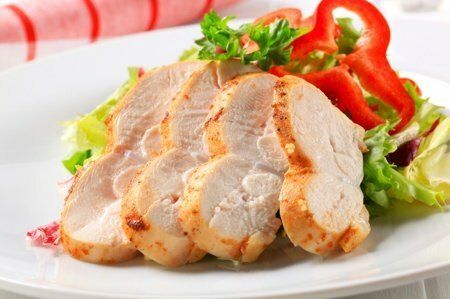 Roast Turkey Breast Recipe
Makes approximately 7 pounds of lunch meat
Ingredients
1-8 pound frozen turkey breast - bone in
2 tablespoons softened butter
salt and pepper
Instructions
Thaw the turkey breast in the refrigerator. It may take two days to thaw completely.
Heat oven to 325 F.
Take the turkey out of its packaging and rinse it and dry with paper towers. Place breast in a casserole dish or roasting pan and rub with butter. Salt and pepper liberally.
Roast in oven for 1.5 – 2.5 hours. Check with a meat thermometer for when the breast meat reaches 160 F. You should check often so it doesn't over cook (dry turkey is bad news). Take the turkey out of the oven and let rest for 15 minutes. It will reach 170 F on its own.
Slice the turkey using serrated knife, moving back and forth fairly quickly to ensure a nice slice. At this point you can slice the entire turkey and package the meat in freezer bags for future lunches.
Nutrition Facts
Four ounces (without skin) is 118 calories, 1.8 g fat, 0.5 g saturated fat, 4.7 g carbohydrates, 4.0 g sugar, 20.0 g protein, 0.6 g fiber, 55 mg sodium, 3 Points+
Points values are calculated by Snack Girl and are provided for information only. See all Snack Girl Recipes
Other posts you might like:
---

Snack Girl realizes she will be the only food blogger who covers turkey this month – but she likes to be a rebel....
---

Snack Girl needs to apologize to all her Canadian and other international readers. She is OBSESSED with American Thanksgiving....
---
---
Get Free Email Updates! Yes please!
---