A Simple Fix For An Iconic Meaty Sandwich: The Sloppy Joe
Anyone else like sloppy joes? This sandwich consists of ground meat, onions, and mystery sauce from a can served on a bun.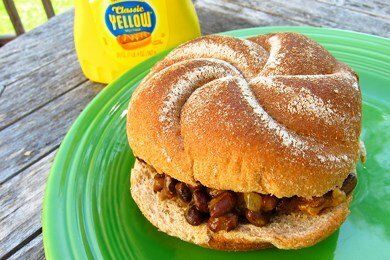 My mother used to "cook" these for us - and I had forgotten about them until recently. I found out that my husband, who is an Australian citizen, has never had a sloppy joe.
I felt for sorry for him. Never had a sloppy joe! You haven't lived! (or maybe you have lived but were fortunate enough not to ever eat school lunch in the U.S.A. in the seventies)
But, I couldn't serve him the school cafeteria sloppy joe because I feel it is kinda strange and too packed with just meat for my tastes. I believe that I can make it over into a healthier sandwich and no one will notice! My strategy is to remove most of the ground meat and use canned black beans.
Sacrilege? Maybe, but it is cheaper, healthier, and more environmentally sound to eat less meat and while I think a sloppy joe without ANY ground meat is a bad idea- mixing in some beans turns out to be a pretty good idea.
You see, the beans are fiber filled, high protein, and they go great in the sauce. And, the amount of meat added gives it that yummy meat taste to make it taste like a real sloppy joe.
We don't have to give up taste and flavor to have a healthier option. Just add less meat and it works. Really.
It is difficult to buy 1/2 pound of ground meat. So, talk to your butcher (they will give you the amount you specify) or just cut the pound in half and freeze the rest for later use.
I double dog dare you to try this recipe!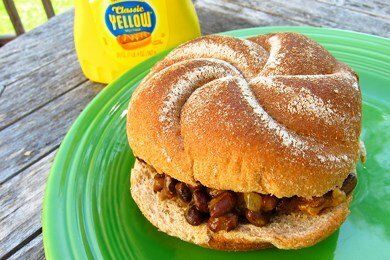 Healthy Sloppy Joe Recipe

(makes 8 sandwiches)

Ingredients
1 medium onion (chopped)
1/2 pound ground beef
2-15.5 ounce can black beans (drained and rinsed)
1 cup bbq sauce or ketchup
1/2 cup French's yellow mustard (or equivalent)
1/4 cup Worcestershire sauce
8 whole wheat burger buns

Instructions
Spray non-stick pan with non-stick spray and heat to medium high. Saute onion until softened and add ground beef. Cook until ground beef is no longer pink. Add the remaining ingredients and serve on burger buns. Enjoy!
Nutrition Facts
335 calories, 4.9 g fat, 55.3 g carbohydrates, 22.3 g protein, 11.3 g fiber, 721 mg sodium, 8 Points+
served on 1/2 bun = 265 calories, 3.9 g fat, 42.3 g carbohydrates, 19.3 g protein, 9.3 g fiber, 591 mg sodium, 7 Points+
Points values are calculated by Snack Girl and are provided for information only. See all Snack Girl Recipes
Other posts you might like:
---

Tammy, the author of Skinny Mom's Kitchen, is dedicated to helping busy moms eat healthier and lose weight by teaching them how to combine calorie awareness with menu planning, freezer cooking, and other make ahead cooking strategies....
---

Maybe you like grilled cheese sandwiches? Okay, who doesn't like grilled cheese sandwiches?...
---
---
Get Free Email Updates! Yes please!
---