Slow Cooker or Instant Pot Stuffing
This slow cooker or Instant Pot stuffing will make Thanksgiving easier.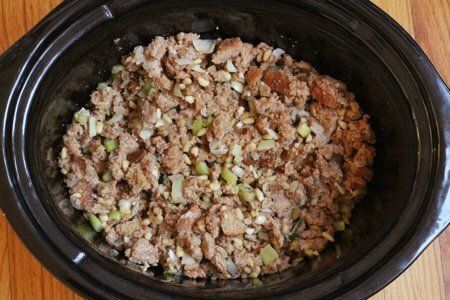 It turns out that the slow cooker (or Instant Pot on its slow cooker function) is an excellent place to make stuffing because it keeps food moist! Have you ever had dry stuffing? Well, it is easy to dry it out if you aren't putting it in the cavity of the turkey.
Like my vegan stuffing, this recipe is for vegetarians but it uses butter and eggs so it is not vegan. Check out my other healthy side dishes for Thanksgiving for delicious side dish ideas.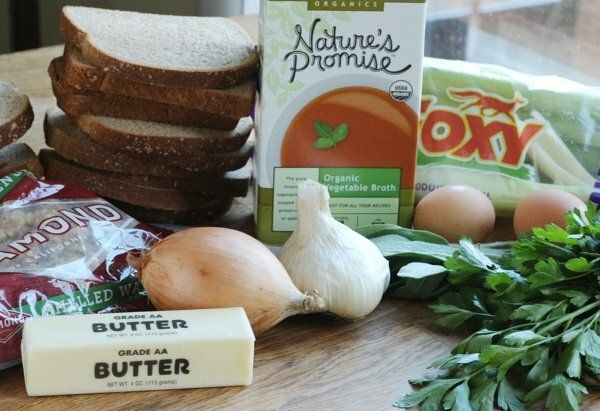 What makes this tasty is the fresh sage and walnuts. I used pine nuts in my photo (and stuffing) because my daughter and husband are allergic to walnuts but I LOVE them.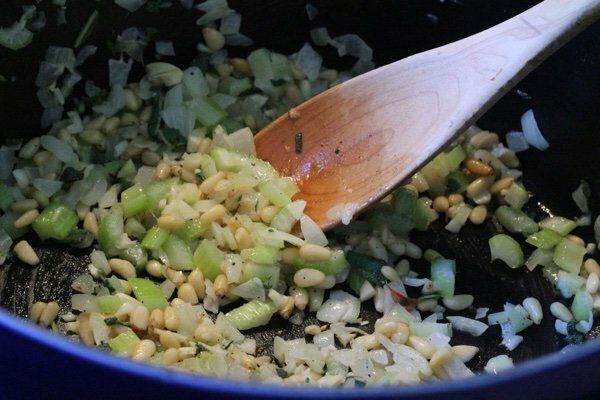 Before you can start slow cooking, you need to saute the onions and celery to soften them. Then you add garlic, sage, and nuts and saute a little longer. I did this in a large saucepan but you can do it in your Instant Pot because the volume of the total dish is going to reduce.
I made my own bread cubes with 100% whole wheat bread. I forgot to leave the bread out to get stale so I toasted the slices in a 300 F degree oven for about 25 minutes while I was getting everything else ready.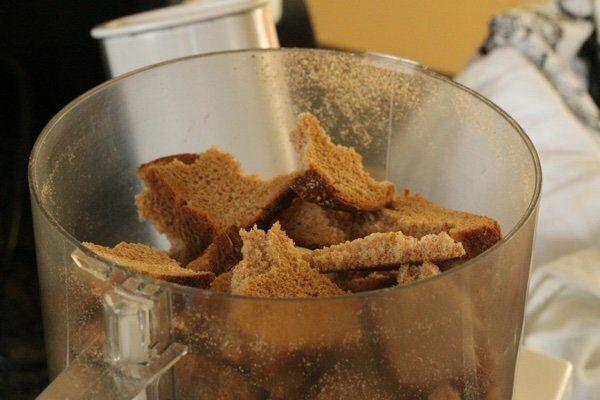 I tore up the slices and buzzed them in the food processor to get bite sized hunks of bread.
This recipe can be made the day before, refrigerated in the insert (covered), and then popped in the slow cooker. Also, you can keep this on the WARM setting for quite a while without it drying out as long as it remains covered.
If you have vegetarians coming for Thanksgiving, it might be nice to make them this along with the sausage stuffing that everyone else is going to eat. I will be making this for my daughter as she went vegetarian in July and LOVES stuffing.
I know someone is going to ask me how to do this for the Gluten Free folks. I guess just use gluten free bread and if it is too dry – add more liquid at the end.
Have you tried to make stuffing in the slow cooker or Instant Pot? How did it work out?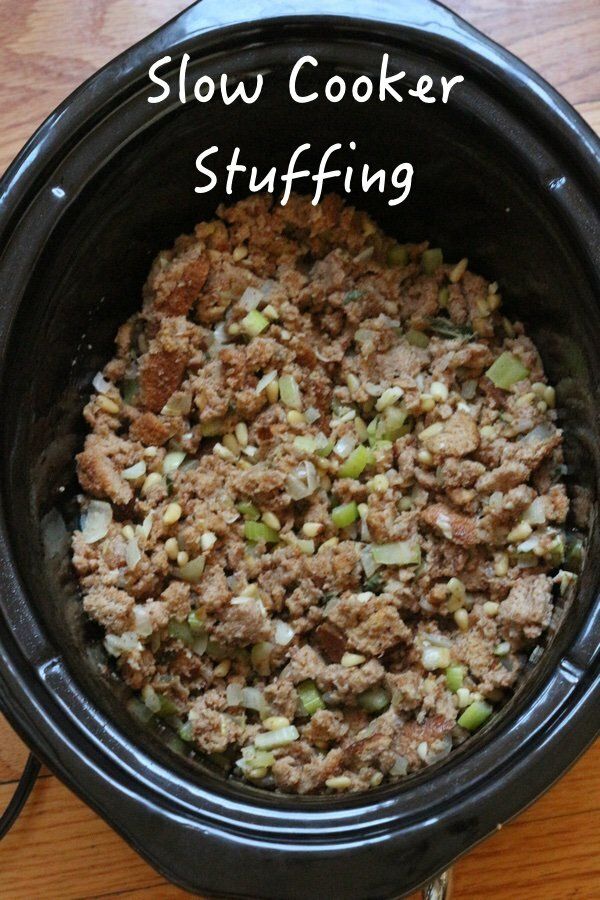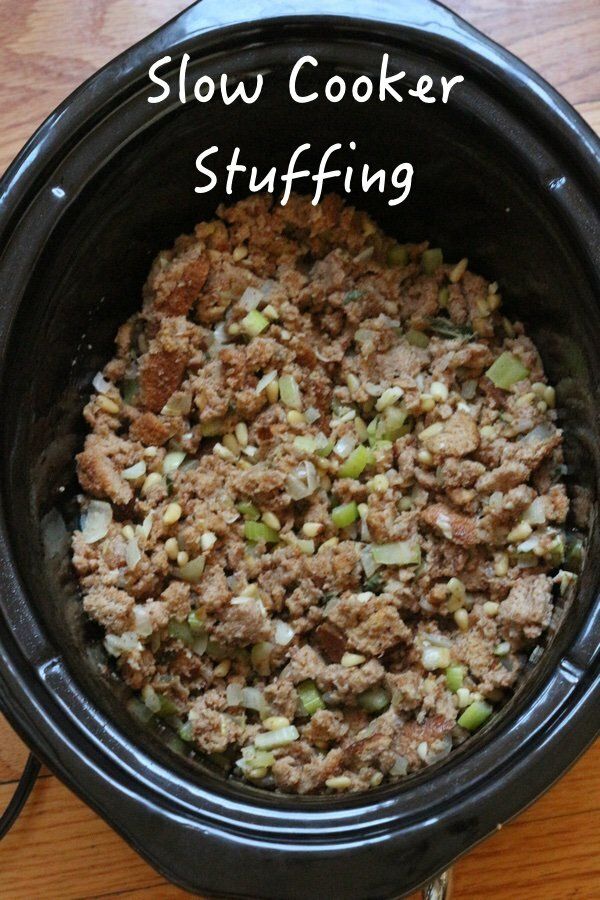 Slow Cooker or Instant Pot Stuffing Recipe

Makes 6 servings

Ingredients
2 tablespoons butter
1 medium onion, chopped
3 stalks celery, chopped
2 tablespoons minced garlic
½ cup chopped walnuts or whole pine nuts
3 tablespoons fresh sage, chopped
8 cups stale whole wheat bread cubes (from 10 slices of bread)
2 eggs, beaten
1 ½ cups broth, vegetable, chicken, or turkey
fresh parsley (for garnish)

Instructions
If using a slow cooker, spray with non-stick spray. In either an Instant Pot or a large saucepan, melt butter on medium -high and saute onion and celery until soft (about 5 minutes). Add garlic, walnuts, and sage and cook for 2-3 minutes stirring to keep the nuts from burning. Remove from heat.
Add bread cubes, eggs, and broth and mix to combine. Cover and slow cook for 4 hours on low until edges crisp up. When ready to serve sprinkle with chopped parsley.
Nutrition Facts
For one serving = 195 calories, 10.1 g fat, 2.8 g saturated fat, 18.1 g carbohydrates, 3 g sugar, 9.1 g protein, 3.6 g fiber, 350 mg sodium, 6 SmartPts
Points values are calculated by Snack Girl and are provided for information only. See all Snack Girl Recipes
Other posts you might like:
---

Healthy side dishes for Thanksgiving are completely doable and you can make things easier on yourself.....
---

The key to great stuffing is not the sausage. I believe it is using "real" bread crumbs....
---
---
Get Free Email Updates! Yes please!
---