The In Season Vegetable With A Bad Reputation
Snack Girl knows how you are feeling right now. Too many bowl games?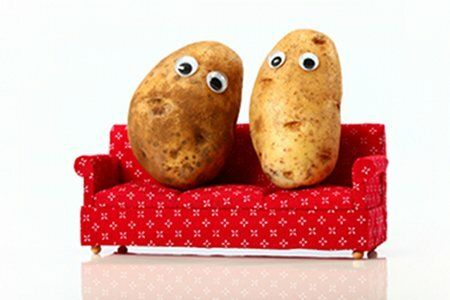 But, don't call yourself a "couch potato". Call yourself a "couch potato chip". Potatoes are not the same as potato chips.
For example, humans can actually survive healthily on a diet of potatoes supplemented only with milk or butter, which contain the two vitamins not provided by potatoes (vitamins A and D). I would not suggest you try this with potato chips.
Yes, potatoes are nutritious. Here are the nutritional facts for one medium potato:
170 calories, 0 g fat, 0.0 g saturated fat, 37 g carbohydrates, 2.0 g sugar, 5 g protein, 4 g fiber, 25 mg sodium, 4 Points+
and you get 35% of your daily value of Vitamin C and 10% of your daily value of iron.
I happen to really like potatoes because they are cheap right now. I bought 10 pounds for $5 and they are perfect for the cold, wintry weather we are having.
The problem is we load them. Potatoes are not guns. Why we insist on putting sour cream, butter, and bacon on a potato in mounds is a mystery to me because they taste great with very little seasoning. Okay, they also taste great "loaded", but that is a terrible way to stay healthy.
My suggestion is to seal in the flavor of the potato by baking them in a slow cooker like this: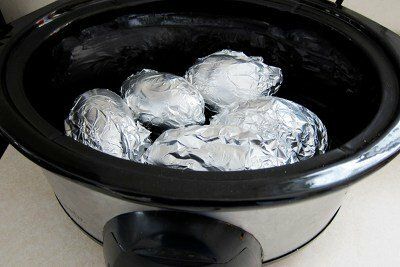 Scrub your potatoes, dry them, prick them with a fork, wrap them in aluminum foil, put them in a slow cooker on low, and leave them for 7 hours.
What will happen? Well, you will walk in after a hard day and smell the wonderful scent of baking potatoes.
Grab some fresh salsa and a little bit of cheese and have a lighter potato with added vegetables. Add some black beans mixed with corn and some tabasco? How about salt, pepper, and some greek yogurt?
Take a good hard look in your fridge and see what you can find that isn't butter, sour cream, and bacon and put it on your potato.
Yum!!!
What do you put on your baked potato?
---
Other posts you might like:
---

For those of us who didn't can fresh tomatoes when we had the chance, this is a rough time of year.....
---

Yes, you can do it! You can give up your beloved french fries and celebrate their exit from your life.....
---