Slow Cooker Italian Chicken, Quinoa & Vegetable Soup
Using quinoa instead of pasta in soup is a great way to introduce more protein.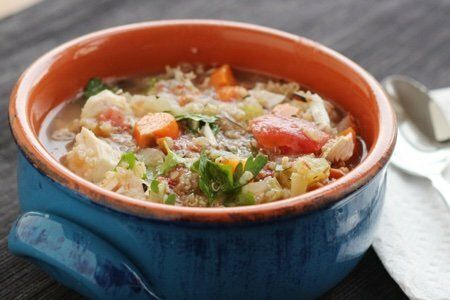 My kids will eat quinoa when it is in soup but not when I serve it in a salad. I think the texture works better for them when it is swimming around.
For those of you who are trying to avoid pasta – this is a great combination that will remind you of a minestrone or other pasta filled soup – and you won't mind that the pasta is missing because you replaced it with a whole grain.
This time of year, I like to make huge batches of soup and store them in the fridge for the week. This soup improves with age – just like me!
Have you tried substituting quinoa for pasta? What do you think?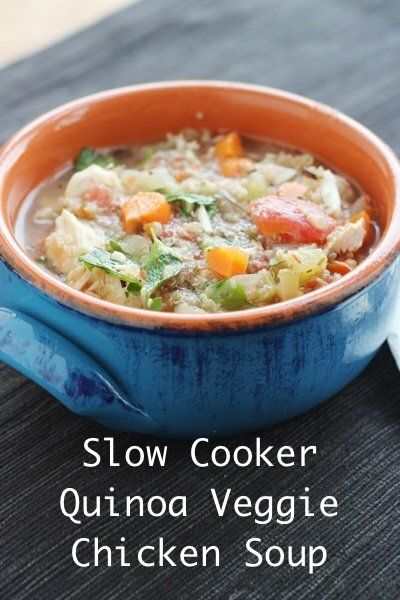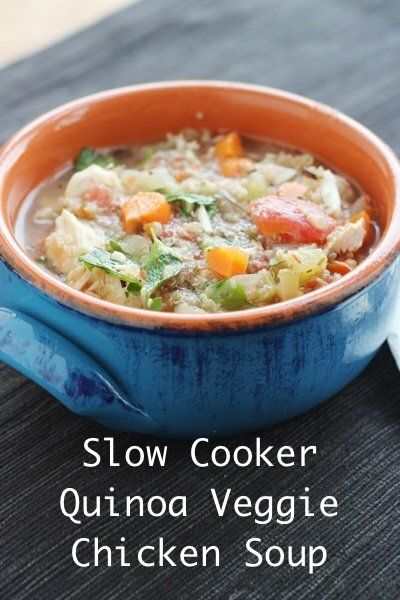 Slow Cooker Italian Chicken, Quinoa & Vegetable Soup
Makes 12 cups
Ingredients
1 cup onion, chopped
1 cup celery, chopped
1 cup carrots, peeled and chopped
4 garlic cloves, minced
1 tablespoon extra-virgin olive oil
1 pound chicken breast, boneless and skinless
¾ cup uncooked quinoa, rinsed
1 14.5 ounce can fire roasted tomatoes, with juice
¼ teaspoon red pepper flakes
2 teaspoons Italian seasoning
2 teaspoons oregano
6 cups chicken broth, low sodium
grated Parmesan cheese, optional
chopped parsley, optional
Instructions
Place onion, celery, carrots, garlic, and olive oil in a microwave-s safe bowl. Microwave on high for 2 minutes stir and repeat until the onions have softened. Place mixture into slow cooker with chicken, quinoa, tomatoes with juice, red pepper, Italian seasoning, oregagno, and chicken broth. Cook on high for 3-4 hours until quinoa is cooked. Take out chicken, chop, and put back in soup. Garnish with parsley and Parmesan cheese.
Nutrition Facts
One cup is 148 calories, 4.1 g fat, 0.0 g saturated fat, 10.7 g carbohydrates, 2.0 g sugar, 16.7 g protein, 1.7 g fiber, 400 mg sodium, 2 SmartPts
Points values are calculated by Snack Girl and are provided for information only. See all Snack Girl Recipes
Other posts you might like:
---

This slow cooker quinoa chili is for right now. Can't afford meat? No problemo.....
---

Snack Girl can't stop talking about fall. Perhaps, it is because she is swimming in falling leaves....
---
---
Get Free Email Updates! Yes please!
---