Slow Cooker Quinoa Chili: Healthy, Inexpensive, and Delicious
This slow cooker quinoa chili is for right now. Can't afford meat? No problemo.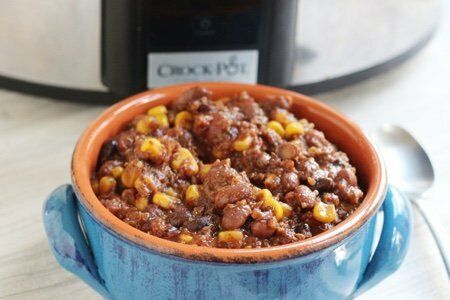 My biggest problem with any vegetarian chili is that it lacks the "heft" of meat and the thickness that I am looking for in chili. I like my chili to be hearty (not light).
This chili uses quinoa instead of meat and it works for me. I am not a quinoa fan (as I think it tastes like dirt) but in chili I don't notice the taste and it makes the consistency kind perfect. You add it uncooked near the end of the slow cooking so that it isn't super mushy. It cooks in the chili.
Hey, I didn't know a grain could do that! It is truly a great substitute for meat.
Quinoa can be found in your supermarket next to the rice and other exotic grains (like kamut and bulgur). Some people absolutely love it in a salad with vegetables.
This recipe is very inexpensive because you use dried beans instead of canned ones. A bag of beans sets me back about $1.
This recipe is not for a spicy chili. In fact, it has been criticized for being too light on the spice. If I wanted it to be spicier - I would double the amounts of chili powder and cumin. Don't be afraid!!
Please share your favorite uses for quinoa.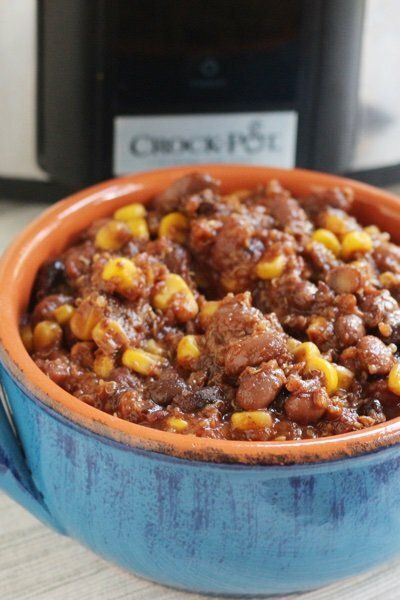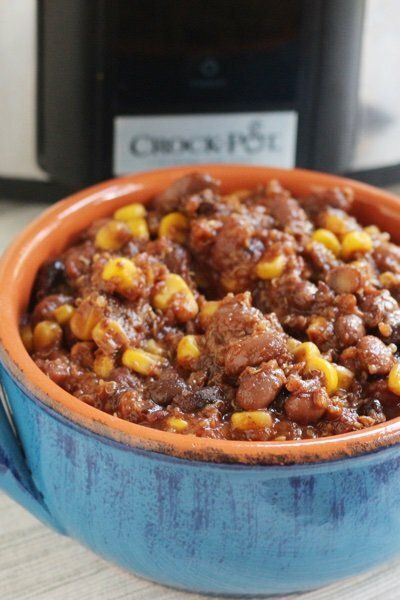 Slow Cooker Vegetarian Quinoa Chili Recipe

Makes 12, 1 cup servings

Ingredients
For first 5-6 hours:

1.5 pounds dried small red beans, soaked overnight
1-28 ounce can tomatoes
2 tablespoons chili powder
1 tablespoon cumin
2 teaspoons salt
6 cups hot water

For last 30 minutes:

1 pound frozen corn
1 cup quinoa (uncooked)

Instructions
In a 6 quart slow cooker, mix soaked beans, tomatoes with juice, chili powder, cumin, salt and water. Cook for 5-6 hours on high until beans are tender.
When beans are cooked, add quinoa and corn and cook on high for one hour.
Nutrition Facts
For one cup = 283 calories, 1.4 g fat, 0.0 g saturated fat, 53.2 g carbohydrates, 2.9 g sugar, 15.2 g protein, 15.8 g fiber, 411 mg sodium, 2 Green, 1 Blue, 0 Purple SmartPts
Points values are calculated by Snack Girl and are provided for information only. See all Snack Girl Recipes
Other posts you might like:
---

Time to buy a big beautiful pumpkin and a few cans of pureed pumpkin to make pie.....
---

I recently noticed that my favorite brew pub has a VEGGIE burger on its menu. Yes, we have shifted a bit when it comes to our burger consumption....
---
---
Get Free Email Updates! Yes please!
---